A light truck created under the national electric vehicle program was presented in Belarus. The new model was developed by the Joint Institute of Mechanical Engineering of the National Academy of Sciences – it was this organization that President Alexander Lukashenko authorized to develop a line of electric vehicles for Belarusians.
The car is called the Academic Electro and is described as a prototype rather than a fully functional car. The Academic is made using frame-panel technology – the structure is welded from rectangular steel pipes, and all external panels are molded from composites.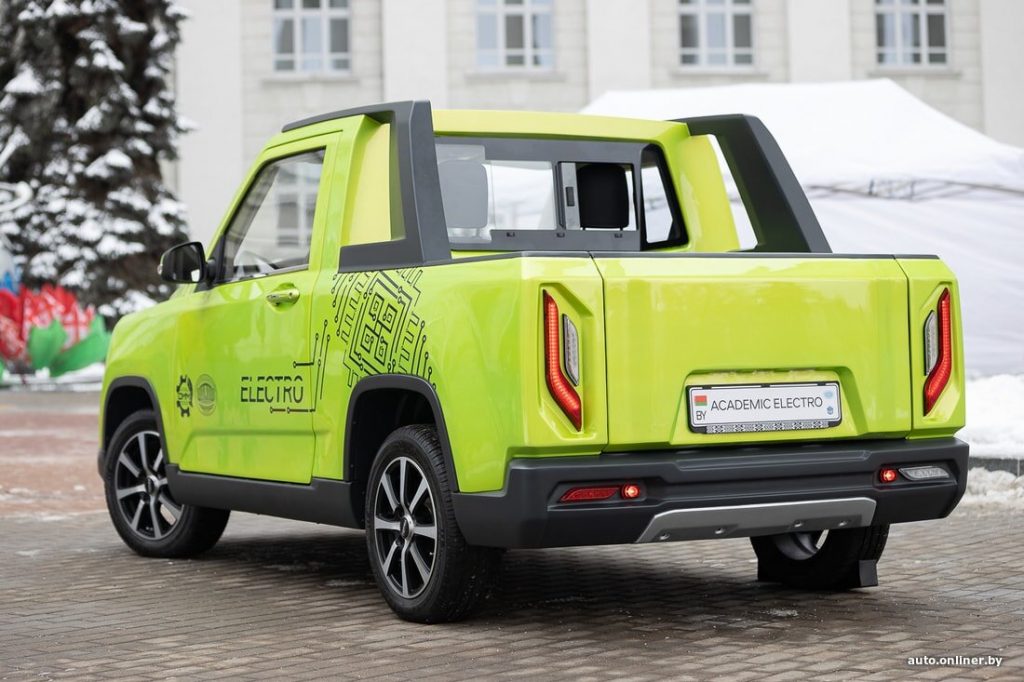 The design of the Academic Electro was developed by the designers of the Institute of Mechanical Engineering. The body has simple shapes, while all lights are made by Hella. This electric car has a two-seater cab and a 650-liter cargo. Carrying capacity – 350 kg. You can see a lot of details from Lada and Geely cars in the exterior and interior.
The first prototype is equipped with an electric motor with a power of 58 kW (79 hp) and a lithium-ion battery with a capacity of 20 kWh. The minitruck can travel up to 150 km on a full charge. The electric motor is mounted at the rear and accessed through a hatch in the compartment floor. The estimated maximum speed of the Academic is 110 km/h. The car can be charged in two hours from a three-phase socket.
With a small-scale production, such a vehicle will be in demand as a "workhorse" in parks and plants areas. However, the National Academy of Sciences of Belarus is not ready to do it on its own due to the lack of its own production facilities.
The Belarusian national electric vehicle program is linked to the recent launch of a local nuclear power plant, which was built by Rosatom. It was assumed that electricity from the station would be exported to the Baltic states, but the Baltic countries refused to buy it – as a result, the leadership of Belarus decided to increase domestic demand for electricity and, in particular, to popularize electric cars.