Argentina had a boom of small, medium and heavy automotive industries at the beginning of the sixties. But not all models were successful. One of them was Alcre Susana 500 — a small car which was made in Argentina in the 1960s.
It was named after a daughter of Alberto Credidio, an Argentine industrialist dedicated to the manufacture of electric motors. He made the company Alcre Automotores S.A.C.I., an acronym created with the first two letters of the founder's name and the first three letters of his surname.
The manufacturing plant would be located in the province of Entre Ríos in the city of Paraná and it seems that Credidio managed to get the German companies Heinkel and Bellido to finance their project to build this microcar in Argentina. Heinkel would be the company in charge of supplying the engines and Bellino the bodies.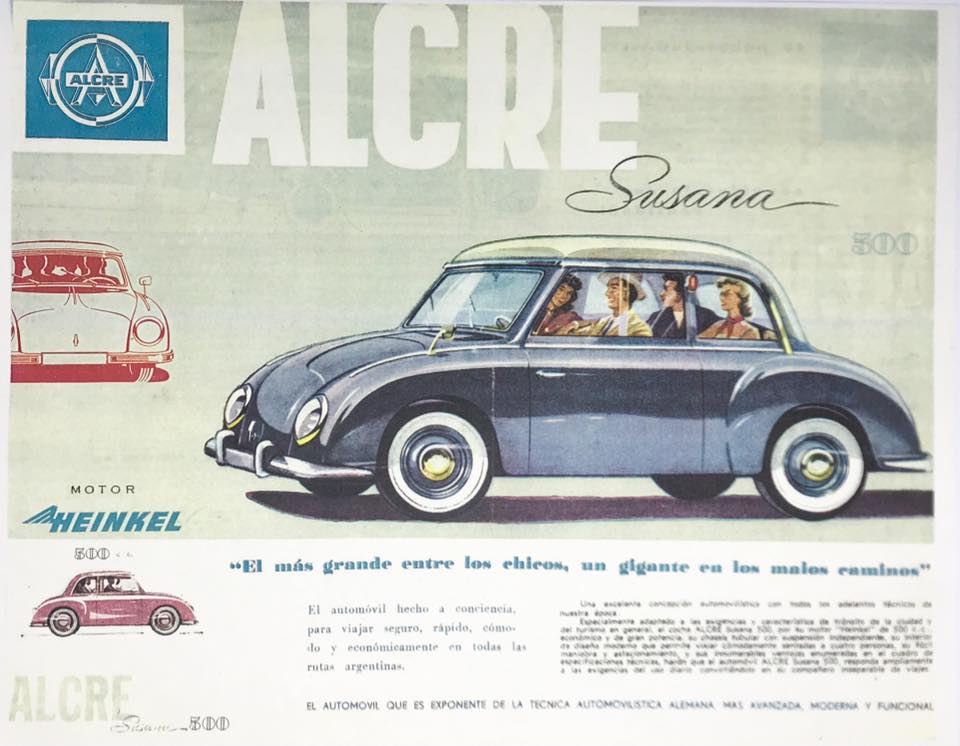 Alcre Susana 500 actually was a German Maico Champion 400. There was an extensive advertising program in Argentina which seems to be failed. Because only the prototypes were made for advertising and to display on automotive show. It is also not clear what happened to the money put by the future owners of the Alcre, or it was just a publicity stunt that had no financial significance.
Alcre Susana 500 was a two-door microcar with a two-cylinder, two-stroke rear installed engine. The displacement was 500 cubic centimeters with a power of 22 HP SAE at 4,000 rpm. Cooling was by water with a radiator and pump.
To start the Alcre Susana 500 a Dynastart was used that also doubled as a dynamo to charge the 6 volt battery. The suspension was independent on all corners with swing arms, coil springs and hydraulic shock absorbers.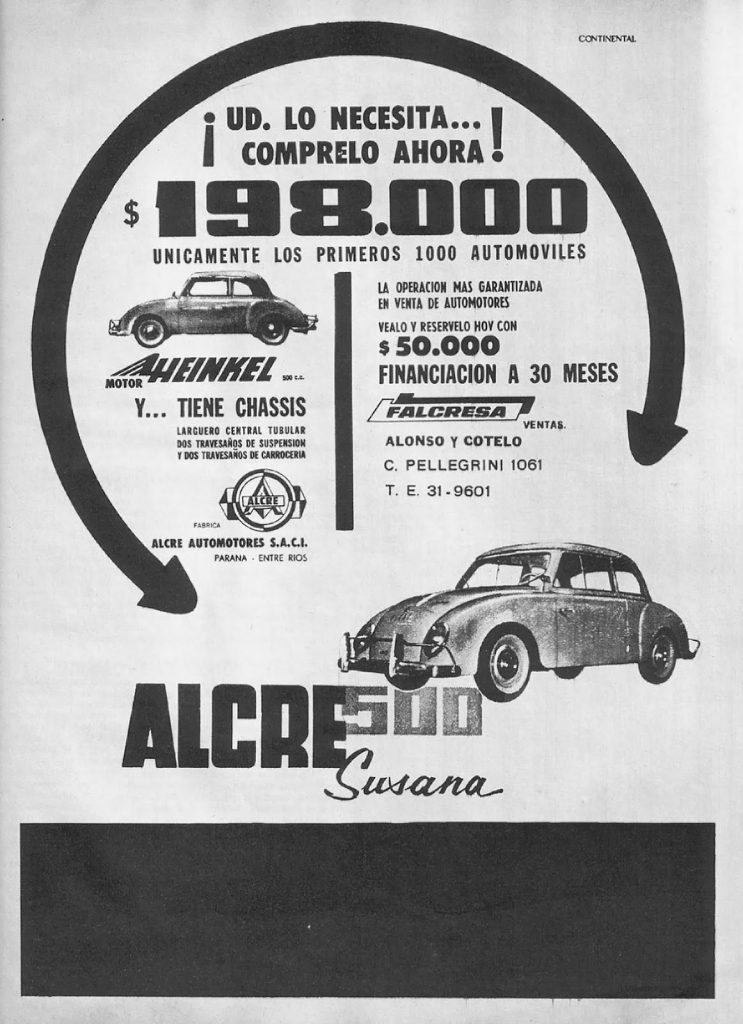 The traction was rear, like the location of the engine. The gearbox has four gears plus a reverse gear. The body was a two-door, four-seater sedan type, built in steel with a central mono-tubular chassis where the suspension and the supports of the rear powertrain were anchored. The windows were of the sliding type.
The dimensions of the Alcre Susana 500 were as follows: length — 3,420 mm; width — 1,490 mm; high — 1,395 mm and wheelbase — 2,020 mm. According to its manufacturer, it could reach 95 km/h of maximum speed and its consumption was 6.1 liters per 100 kilometers. The weight was 880 kilograms and the tires were 520 x 12 inches.
The first 100 Alcre were sold, according to an advertisement of the time, for 198,000 pesos national currency. The real price was 230,000 pesos national currency. The financing was for 30 months and according to an advertisement from January 1962, published in the magazine Parabrisas, 470 cars had been reserved in just 30 days. The truth is that it was never manufactured in Argentina and only the prototypes were seen for the samples and advertisements.