Electric Brands Xbus Camper Concept
The German company Electric Brands has come up with a new version of the Xbus super compact EV van. It was turned into a small camper with the possibility of transformation.
The dimensions: length — 3945 mm, width — 1690 mm, height — 1990 mm. To provide acceptable living space inside such a small body, the engineers came up with a lifting roof. A retractable rear window gave additional space.
Typically, minivan-based campers have a full roof that opens up to give additional sleeping quarters. In the Xbus the center section moves only, and the benefit from it is in the extra space above the head and a pair of windows.
There are only two beds in the camper. They are laid out in the rear of the cabin. The kitchen equipment includes only a single-burner gas stove. The refrigerator and sink, which are usually found even in small motorhomes, are not visible in the photographs. There is no full-fledged dining area, only small tables for coffee. There is a large TV for entertainment.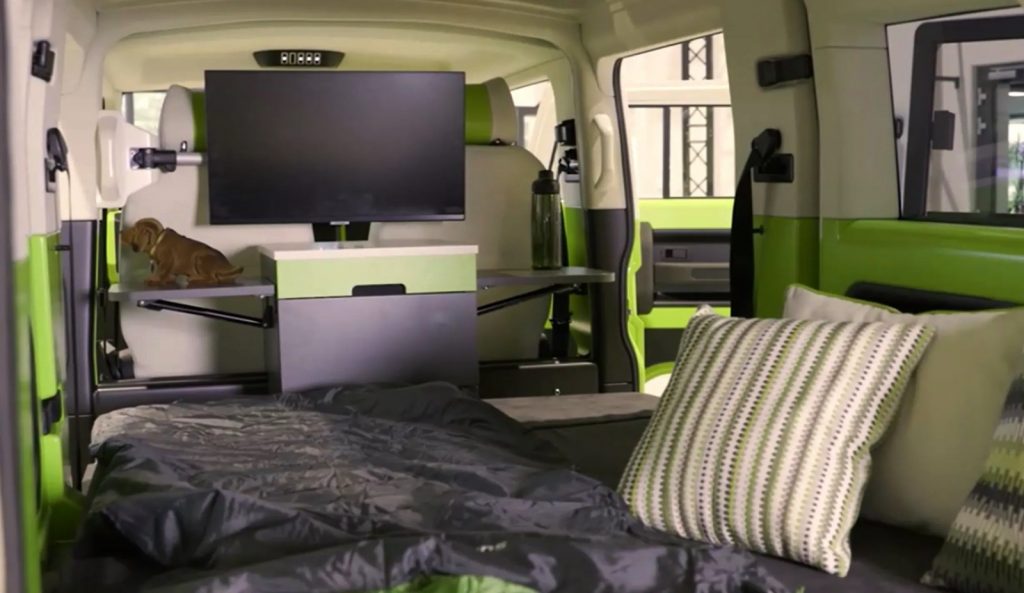 Compared to the standard Xbus, the camper has gained four centimeters of ground clearance and off-road tires. Motor-wheels provide the car with all-wheel drive. The power reserve of the basic version is small: a battery with a capacity of 10 kWh will provide no more than 140 kilometers in a combined cycle. You can order a 30 kWh battery, and the mileage on a single charge will increase to 420 kilometers. Solar panels on the roof are an option.
The camper, as well as other versions of Xbus (debuted as eBussy), is still in concept status. The renders were presented in 2020, and the "live" photos appeared a year later. According to the official website, more than 16,000 pre-orders have been collected.
The price could also change, but for now, the Xbus configurator spits out a base price of €30,170 (approx. US$30,750) for the Camper on standard road chassis or €32,370 ($32,975) for the off-road model. Those prices include VAT, and look quite attractive, even by European small camper van standards.