In 2017, the European consortium "Efficient Urban Light Vehicle" (short EU-LIVE) introduced a new electric mobility solution of category L5e1. The designation L5e refers to three-wheeled vehicles that can be driven at speeds over 50 kph. However, the presented electric vehicle is not a tricycle, but a «three-wheeled architecture».
EU-LIVE brings together 12 partners from six different countries. One of the participants in this urban mobility project, funded by the European Commission with € 6.7 million under the Horizon 2020 GVS research and innovation program, is the car maker Group PSA.
According to EU-LIVE, the presented electric vehicle "positions itself between the two-wheel and the four-wheel segments and is equipped with an electric plug-in hybrid drive (PHEV), two wheel-integrated electric motors and a petrol internal combustion engine". One of the main objectives of the EU-LIVE consortium was "the development of common powertrains that can be used for a variety of light vehicles" — thus increasing cost-effectiveness.
The Group PSA leads the research and production phase of the new demonstration vehicle. Thus, according to their own statements, they are expanding their own design expertise beyond the automotive industry. Group PSA Senior Vice President Research and Advanced Development Carla Gohin: «The Group PSA is committed to the protection of individual mobility. EU-LIVE is an illustrative example. This new electric light vehicle enables individual, safe and sustainable mobility thanks to its emission-free mode. We are proud to be part of this European project with all our partners.»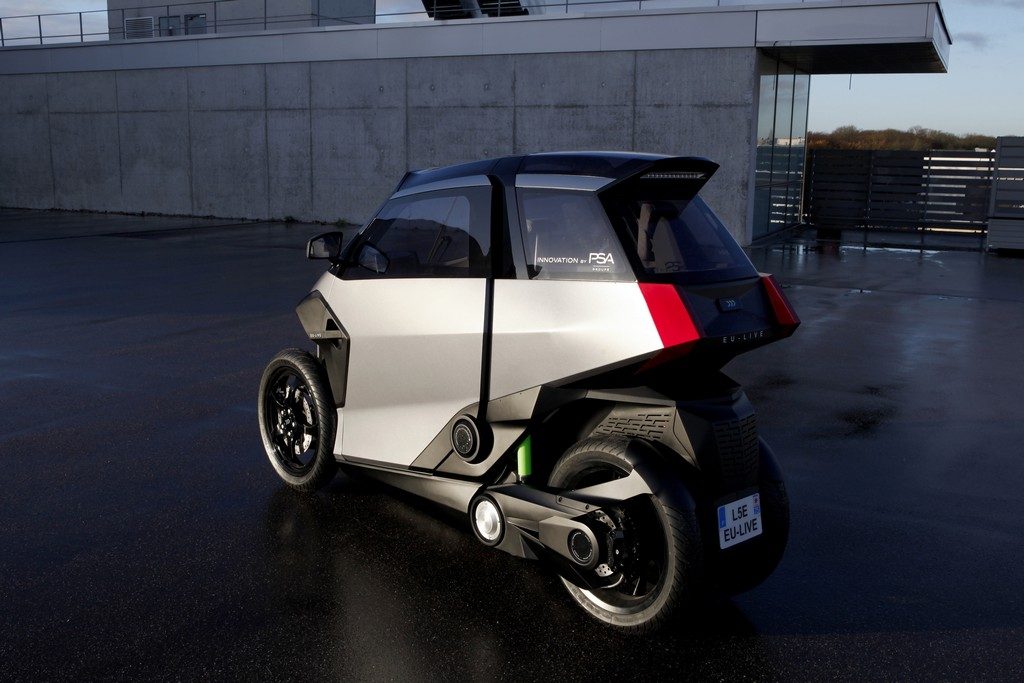 Thanks to its silhouette and hybrid technology, the new E-vehicle launched by EU-LIVE can now be used on all roads. It is suitable for both roads and highways. It only requires a valid driver's license. As a result, according to EU-LIVE information, the vehicle can be «driven as easily as a tricycle scooter».
Incidentally, more than half of the 13 patents pending by Group PSA for this light vehicle relate to this technology and to roll stabilization. In particular, hydraulic components and hydropneumatic suspensions are used.
With the help of the two wheel-integrated electric tail motors, which were developed by the two consortium partners Elaphe and Brembo, the vehicle drives in emission-free mode at speeds of up to 70 kph. The 48 volt battery developed by Samsung SDI can be recharged by braking energy recovery. On cross-country trips at speeds between 70 and 130 kph, the 31 kilowatt single-cylinder engine of the Peugeot Scooter takes over the drive.
According to Group PSA, the new vehicle has a total range of 300 kilometers. The maximum speed is 130 kph. The small dimensions of the e-vehicle (2.4 meters x 0.85 meters) and its sliding doors facilitate the lateral space-saving parking. The e-vehicle has both a locked heated cab as well as seat belts and an airbag.
PSA EU-LIVE photos