The Auto-ACEDO car was developed by the company "Maquinaria Agrícola y Ferrocarril de Alava" and was part of a series of prototypes developed by them during the 1940s. It was a small vehicle that could be driven with pedals or a 2.2 horsepower four-stroke engine, which makes it one of the earliest hybrid vehicles in history.
The car's design was inspired by the "Voiturette" cars made by French automaker Delahaye in the 1920s. It was manufactured entirely with simple materials of national production. The promoter of the project was Ramón Acedo, who already in the 1920s had owned an important travel agency in Madrid and organized tourist tours with open-top coaches.
During the presentation, a series of tests were carried out aimed at the homologation of results by the RACE, as stated in the corresponding certificate issued at the time by Felipe Manzanares, vice-secretary of the RACE.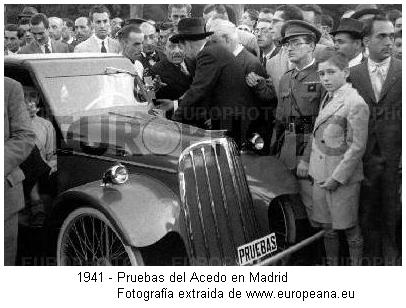 The first test consisted of the ascent of the so-called Cuesta de las Perdices, from kilometer 7.5 to 8.5 of the highway from Madrid to La Coruña. A time of 3.9 minutes was invested in the route, resulting in an average of 19,047 km/h.
The second test took place on the road that borders the Casa de Campo (passing through the Fuente de la Teja) , with the same 1,000-meter route, this time in both directions, with a time of 1.45 minutes and 1. 39 minutes, which meant an average speed of 36,180 km/h.
The intention of its optimistic builders was to mass-produce it and create various types or versions adapted to the needs of its owners. Athletes, public officials, doctors and even a two-seater microtaxi. Two different body sketches were submitted to the test prototype, as the latter was certainly anachronistic.
The mixture of poor performance, a questionable construction quality and the usual problems in Spain at that time to carry out projects of this type, meant that despite all these good intentions, the Acedo was not manufactured.