All Cars Srl was an Italian manufacturer of automobiles. Autozodiaco was an Italian company that built dune buggies based on VW Beetles in the 1970s. At some point, they designed this strange-looking three-wheeled microcar and then sold the rights to All-Cars Srl of Pianoro, Italy.
All-Cars Charly was a 3-wheeler with a simple body powered with a  Moto Morini 49 cc motorcycle engine. The open version called Snuggy Tobrouk. Later models had Motobécan 50 or 250 cc engines. The transmission has 4 'normal' and 4 reverse gears.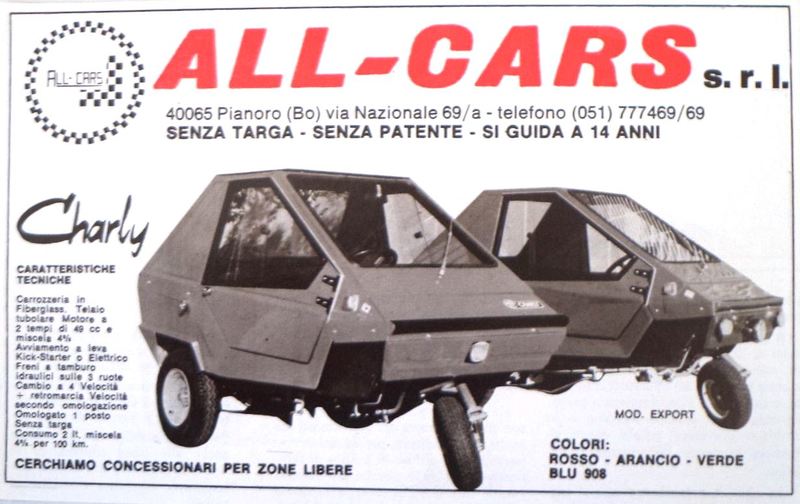 Most of 3-wheelers were sold in France and has a right-hand drive. The Charly was sold under the name 'Snugy' in some countries. Its body is made of fiberglass and nowadays it is difficult to find it in good condition.
All-Cars Charly / Snuggy
The base version has 2-seat body with 145/10 rear tires. This is the base modification in the range. The microcar was sold under 'Snuggy' name in some countries.
All-Cars Charly Camel / Snuggy Camel
The Camel version has large low pressure rear wheels, shortened front and rear bumpers and bigger rear fenders to place bigger wheels. There was a version with a removable soft-top.
All-Cars Snuggy Tobruk
The Tobruk was a convertible version of the base model. It has a soft-top body painted in green color only and a spare wheel hunged outside 4X4 way.
All-Cars Charly videos