In the 1920s, Edwin Elliott Verdon Rowe, founder of the famous AVRO aircraft company, spent his spare time in Great Britain developing original motor vehicles.
One of the projects was a single-seat Monocar with an all-metal body, automatically raised support wheels or struts, motorcycle handlebars and front power unit, drive wheel and steering wheel.
There seem to have been several prototypes produced between 1913 and 1926, with differing engines and transmission arrangements.
1st prototype. 1913
At the moment there is only one piece of information about the first model of the Avro car. The drawing identifies it as "The Avro Motorcycle" rather than an automobile.
The engine was placed between the driver's feet and consisted of a single cylinder, relying on gravity to supply fuel from a tank under the front hood. The mechanism for driving the rear wheel appears to be a chain. The wheelbase was 183 cm, and that is about all that is known at present.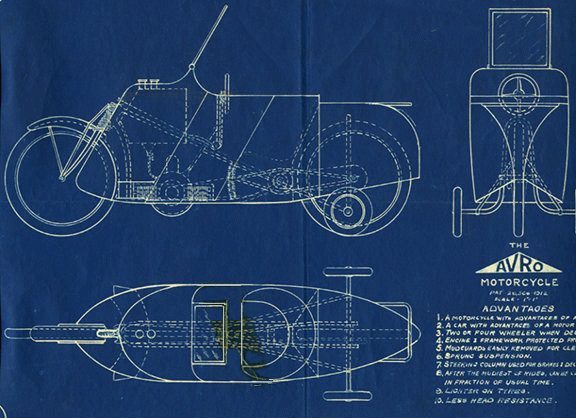 2nd prototype. 1922
The 2nd prototype was originally designed with a closed body, but the sides were later removed to create a more scooter-like appearance as opposed to a car. The body was made of sheet steel for durability. The 349cc engine was manufactured by Barr and Stroud and was air cooled.
The transmission was a three-speed with chain drive to the rear wheel. Barr and Stroud were best known for their optical rangefinders, but they also produced air-cooled sleeve-valve engines between 1920 and 1927.
The small grille on the front of the design is actually an air intake for the engine. Note that the stabilizer wheels are now much smaller.
Registered in 1922 as HO9530, this two-wheeler has undergone some modifications, including the removal of its sides and the addition of a new hood with louvers for improved cooling. The gentleman in the photo is either showing off the vehicle's impressive hands-free stability or surrendering.
3rd prototype. 1926
The 1926 prototype was equipped with a 343 cc Villiers engine, a three-speed gearbox and, for the first time, a worm gear drive to the rear wheel. The 1926 Avro Monocar, also known as the 'Avro Bicar', boasted a 2.5 horsepower air-cooled engine.
It is currently featured in the Science Museum's collection and was frequently used by Roe for his travels spanning thousands of miles from Southampton to Manchester.