The British startup has developed an inexpensive and simple in design electric car for 3rd world countries.
In South and Southeast Asia, tuk-tuks or rickshaws are widespread, which are an inexpensive and simple in design vehicle in the form of a three-wheeled scooter with a passenger or cargo body. Despite its prevalence and cheapness, such transport is quite unsafe and environmentally unfriendly.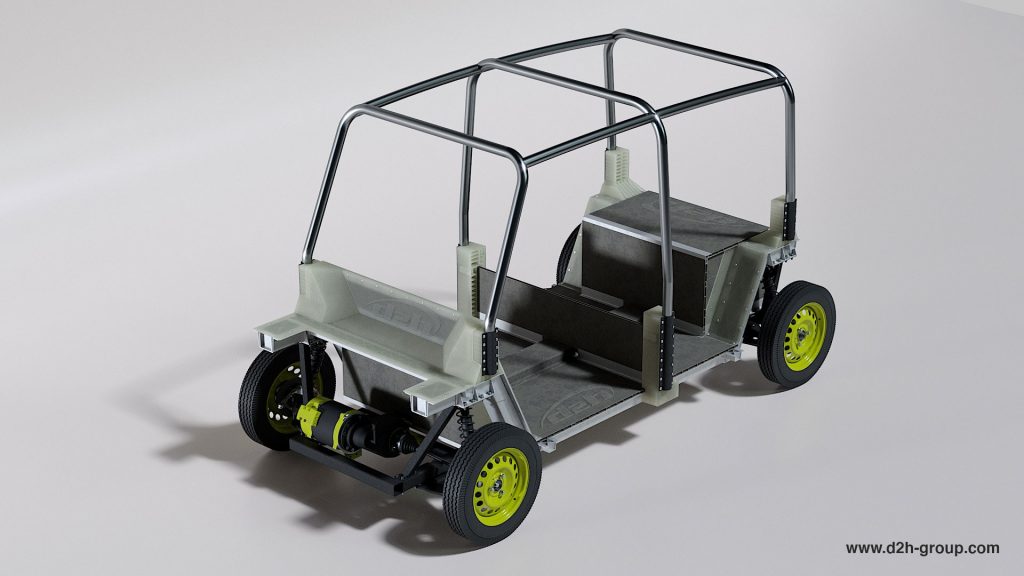 To solve the problem the British startup D2H together with Coventive Composites and the Warwick Manufacturing Group (WMG) developed a project of a low-cost electric vehicle. The novelty is distinguished by the most technological and cheap design, as well as the ability to easily adapt it to various tasks.
"We conducted a detailed study to create a new chassis, which can be produced in the country where such vehicles are in demand. We believe that all production processes should be as simple as possible, should not require sophisticated equipment, and all the necessary materials must be easily accessible and cheap. All this together will make it possible to create an electric car affordable for customers," said Matthew Hicks, D2H Technical Director.
The main feature of a budget electric car should be its body. For India, Southeast Asia and South America it is proposed to be made of a thermoplastic polymer based on jute fibers. This natural textile fiber made from a jute plant is currently used for the production of burlap and ropes. The wide distribution and low cost of the material make it ideal for creating cheap body panels.
A prototype chassis of the future electric tuk-tuk is currently being presented. According to the authors, the project is based on a frame of steel profiles, suspension, brakes and steering so far have a pre-production version.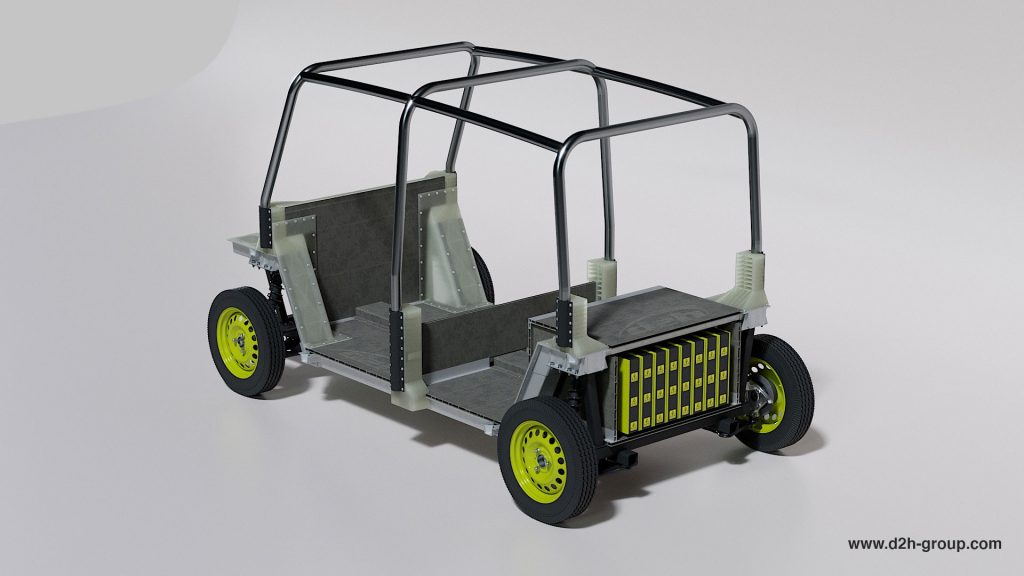 The platform will receive front-wheel drive, the electric motor will also be located on the front axle, and the battery will be placed between the rear wheels. The estimated vehicle weight excluding the battery will be 480 kg.
There is no concrete solution for the battery and electrics yet, but the authors of the project intend to make the simplest and most technological low-voltage power plant with the ability to operate the tuk-tuk without recharging for at least 12 hours.
November 2020. Exterior design
Two low-cost options were shown — the flat bed and the box van, providing a solution for a wide range of applications.
"The bodywork options demonstrate the versatility of the lightweight new EV chassis – there is a configuration suitable for any use and all at a similar, projected low-cost price point that directly competes with existing Tuk-Tuk alternatives," says Matthew Hicks, D2H Engineering Director. "We identified a need for a lightweight EV chassis for use in India and Asia in particular, but which could make a significant contribution to the global fight to reduce emissions. A detailed design study has ensured that the chassis is able to provide a range of configurations that offer a solution to every need in extremely demanding markets. At D2H, we have the perfect blend of expertise to develop a truly revolutionary lightweight vehicle."