Tigarbo Eco, a domestic manufacturer of electric vehicles, presented a six-seater Elecar 5E-TIGARBO EV for passenger transportation. It can travel up to 120 km on a single charge and can be recharged in 8 hours from a conventional 220 volt socket.
The production of the EV has been established in its own Tigarbo Eco plant, located in the city of Kamensk-Shakhtinsky, Rostov Region, Russia. It is noted that due to the absence of imported units and components in it, the terms of its release were halved.
The main purpose of the novelty is to move in parks, hotel complexes, cottage settlements, on embankments, between sports infrastructure facilities and in other closed areas to transport clients or family walks. At the same time, the electric car is also certified for normal operation on public roads, it can be registered with the traffic police.
The design of the EV is based on the Elecar 5E-TIGARBO 4+2 model. Unlike its predecessor, it consists of 100% domestic components: the electric motor, transmission, battery and other components and assemblies have been replaced. Some components are supplied by Russian partners, and Tigarbo Eco produces, for example, the frame, suspension parts and plastic body elements itself.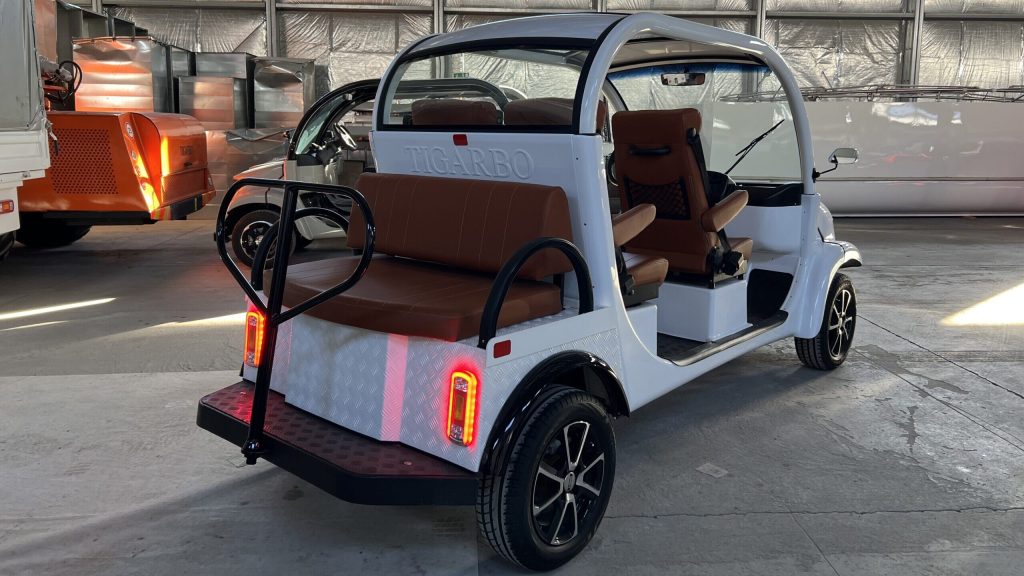 The six-seater electric car has a curb weight of just 750 kg and is powered by a 10 kilowatt (13.6 hp) electric motor fed by a 116 Ah battery. Price and configuration will be announced closer to the start of sales.
"We are excited to introduce a new fully localized electric vehicle. Previously, we had to wait more than two months for the delivery of components from China. Thanks to the use of domestic components, we managed not only to speed up the production process of the novelty, but also to halve the time for maintenance and repair of the machine," said Vladlen Arushanov, General Director of Tigarbo Eco.
In the future, Tigarbo Eco will expand its range of electric vehicles. In particular, the company has already begun production of a cargo model of an electric car that can pull a set of passenger trailers, which is especially important for parking areas. There are also plans to create an electric vehicle with increased off-road capability for extreme off-road use.
Owners will be able to have their electric vehicles serviced and repaired directly at the Tigarbo Eco plant, at official dealer service centers, and at any other automotive service center. Employees of the plant will be able to provide remote assistance to service technicians, if necessary.