ElectraMeccanica Solo Cargo
ElectraMeccanica, a Canadian miniature electric vehicle developer, has decided to add more practicality to its Solo model. To do this, they installed a separated from the passenger compartment box at the rear of the electric tricycle, which can hold 226 liters of luggage. That's 60% more than the 142 liters in the standard model.
The new Solo Cargo is focused primarily on commercial use. A variety of additional equipment will be provided for the cargo compartment, including heating and cooling systems, lighting, internal shelves and containers.
"There are many industries that single-seaters are best suited for, says startup president and CEO Paul Rivera. For food delivery, fast food and pizza delivery, mail and small parcels, service and security organizations, the Solo Cargo electric vehicle it is the ideal solution to minimize operating costs and improve overall business performance."
The addition of a cargo compartment increased the length of the tricycle by just 2.5 cm, to 3124 mm, and did not affect the range and top speed. So the Solo Cargo, like the basic version, is capable of traveling about 160 km without recharging and accelerates to 130 km/h. Thanks to a 56-horsepower electric motor and a 17.4 kWh lithium-ion battery.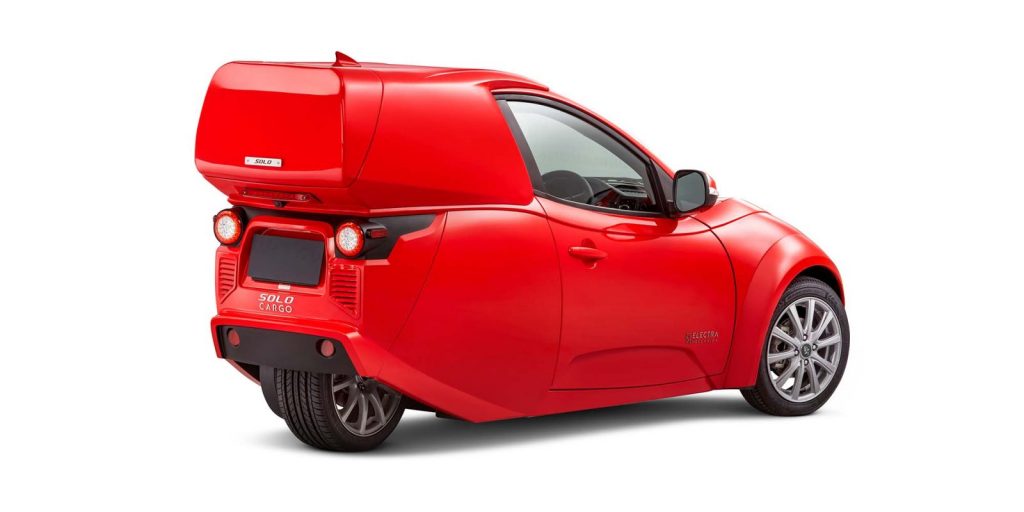 However, even the usual Solo is still not mass-produced, although it was originally stated that the model would ship in 2018. However, by the end of the year, only 40 electric tricycles had been assembled at ElectraMeccanica in Vancouver.
In 2019, the startup was going to increase production to 5,000 vehicles with the assistance of the Chinese engineering company Zongshen Industrial Group. However, only 50 prototypes were assembled in China in 12 months. The start of full-scale production was once again postponed, however, the situation did not change dramatically last year.
Meanwhile, ElectraMeccanica has begun construction of its own 21,832 m2 plant in Arizona, USA. It is expected that after launching next spring, the enterprise will produce up to 20 thousand vehicles per year. The company now promises to start delivering to customers at the beginning of winter. The standard Solo is available for pre-order for $18,500.