Lőrinc Petrovics Children's Car
At the Budapest Industrial Fair in 1958, many children envied watching the small car in the pictures, which transfered the atmosphere of American cars. The vehicle was built by Lőrinc Petrovics.
He made his first pedal car in the early 1950s. It was completed in 1954, after which it formed two electrically-powered carts. Unfortunately, they are gone. He then began building a gasoline-powered children's car.
Lőrinc Petrovics chose the 50 cm3 Berva engine, which was already popular at the time. The clutch, throttle and four drum brakes – like in a real car – were operated by pedals through bowden cables.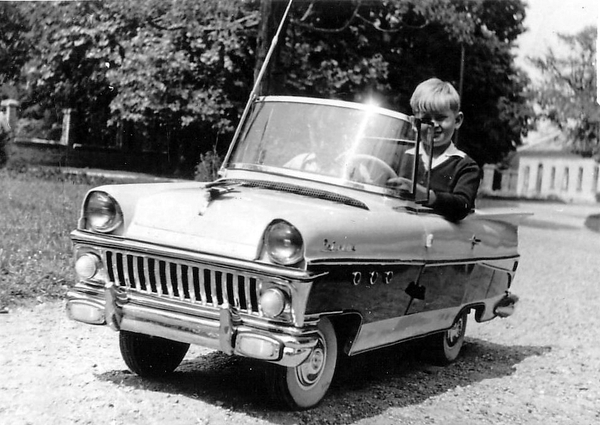 The beautiful body of the 230 cm long, 80 cm wide and about 90 cm high car is made of galvanized sheet metal mounted on a wooden frame, with naturally opening doors, front luggage compartment and rear bonnet.
The car, capable of a speed of 20 km/h, was used by the grandson of Lőrinc Petrovics, János Dobos. The vehicle was also reported by Auto-Motor, Interesting Newspaper and the film newscast.
In 1960, Lőrinc Petrovics modernized the exterior of the car. The updated car received a new grille and red-butter paint. This small car is still owned by the family and is likely to be restored soon.