One of the most curious premieres of the Paris Motor Show 2022 was the light electric SUV La Bagnole (translated from French as "clunker" or "cracker") of the Kilow brand, owned by startup KG Automobile.
KG Automobile was founded by young French entrepreneurs Leo Choiseul and Florent Vitello, they spent several years developing and testing their La Bagnole SUV and presented it in Paris under the Kilow trademark, emphasizing the lightness of the "clunker".
La Bagnole is an electric quadricycle of the L6e/L7e classes (depending on modification), which even with the maximum equipment weighs less than 350 kg (basic version – 283 kg). Overall length – 2812 mm, width – 1495 mm, height – 1460 mm, wheelbase – 2073 mm. Ground clearance is 390 mm.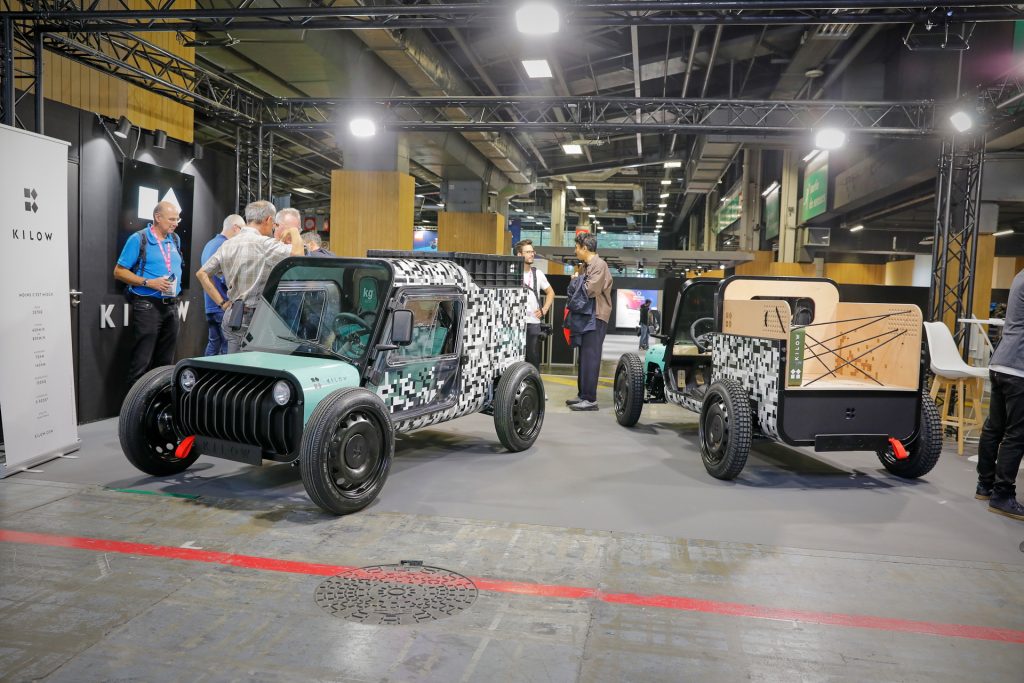 The base is a spatial steel frame, the body panels are made of polymers and wood. There are only two seats and a cargo area where you can order a wooden or plastic insert box with a volume of up to 650 liters. Load capacity – 150 kg.
Suspension – spring, on double wishbones on all 4 corners. La Bagnole is equipped with two electric motors (one for each of the rear wheels) from a certain supplier from Slovenia. There are no intermediate gearboxes and no differential. Maximum combined output – 16 kW (21 hp) and 480 Nm, continuous power – 6 kW (8 hp). The EV has extremely narrow tires (130/90 R 18) and hydraulic disc brakes.
The capacity of the 48-volt modular lithium iron phosphate battery is not specified, but it is known that two configurations are provided – with a power reserve of 70 or 140 km. It takes only 4 seconds to accelerate to 40 km/h. The maximum speed is 45 km/h for the version certified in the L6e class (in France, such vehicles can be driven from the age of 14 with a moped license), and 80 km/h for the L7e class version, which requires a car driving license.
The exterior design of La Bagnole is reminiscent of the classic Willys of the 40s, but very conventional, so it is unlikely that Stellantis (the successor to the Willys brand) will have any claims. The interior is nowhere more primitive: there are a small electronic instrument panel and a pair of toggle switches that control the modes of the power plant and recuperation on the wooden front panel. Windshield and wipers are optional.
Mass production of La Bagnole will begin at the company's own factory in the east of France in January 2023, at the same time the first copies will be shipped to customers. The minimum price is 9990 euros ($10,546).