It's hard to believe that this micro-car called Lawil Willam City comes from Italy, the country that created autotive masterpieces like Alfa Romeo and Ferrari. A cube on tiny wheels, like a child's drawing. However, there is something cute in these square shapes.
Lawil was born thanks to the efforts of two Italian entrepreneurs, Antonio Scattolini and Carlo Lavezzari. They presented a prototype of their car at the Paris Motor Show in 1966, and there they met French industrialist Henri Willem. They started their business together, but Scattolini soon retired.
The mass production of Lawil Willam City started in 1971. Technically, it was a very simple car with a 125cc two-stroke Lambretta motorcycle engine rated at 5.6 hp (there was also a 175cc version) and a three-speed gearbox. The most powerful version was the Lawil S4 Berlina with a 250 cc engine. Its maximum speed reaches 70 km/h.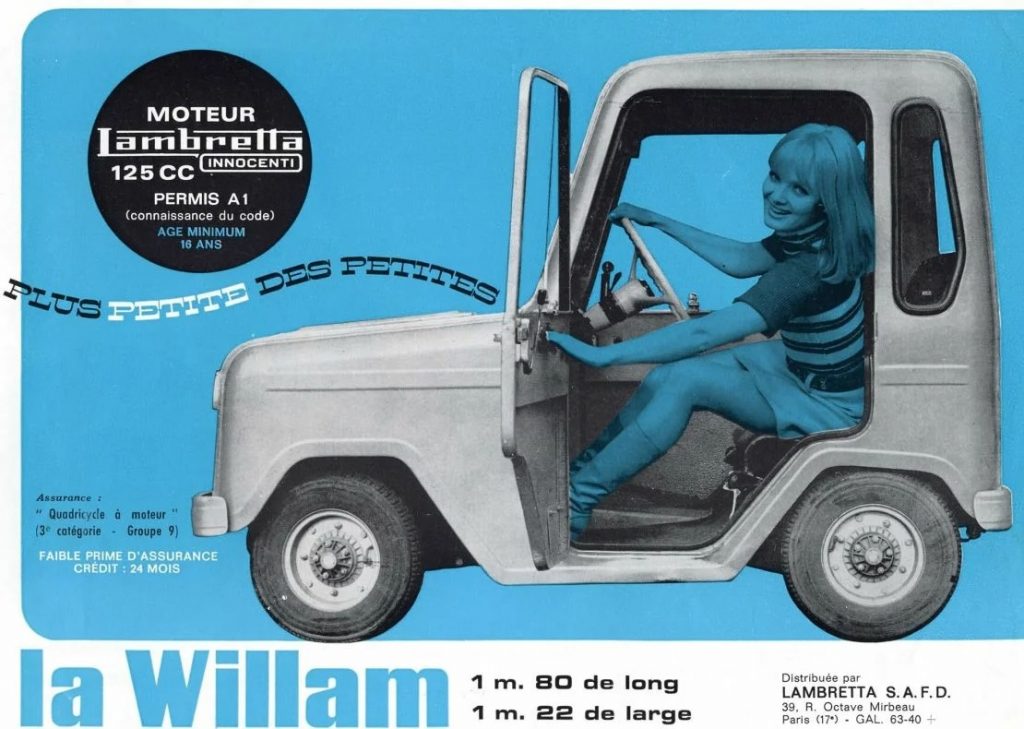 The Willam City was the smallest Italian four-wheel car ever built at the time—a little more than six-and-a-half feet long, including trunk. Its squarish body was made of steel and fiberglass, which made it lightweight and easily maneuverable on narrow, busy city streets.
The gas tank is located under the hood, the fuel flows by gravity. The engine is air-cooled. The car is equipped with electronic ignition system. At the same time, some solutions are not typical for bubble cars.
The engine is located in front. It is powered rear wheels. The continuous axle is suspended on longitudinal springs, as in the full-size cars. The front suspension is typical for minicars — independent on a longitudinal spring. Steering — rack and pinion.
Inside you'll find a small two-seater sofa, steering wheel, gearshift lever, parking brake, and a speedometer. The sales were stable, so the production of the archaic design was curtailed only in 1988.