The portfolio of Chinese company Changan was widened with the new sub-brand named Lumin. It will be engaged in production of inexpensive city-cars.
Lumin is the second joint project of Changan and Chinese battery manufacturer CATL after Avatr. Moreover, formally the rights for Lumin trademark belongs to Avatr. The first model the new brand is Corn. It is a subcompact three-door hatchback for four people, which is powered by an electric motor. The battery for the electric car was developed by CATL.
The EV has received Asian-cartoon appearance. The body lines are very smooth and rounded, while the headlights has already been dubbed as "sleepy eyes". Lumin can boast hidden door handles and two-color wheel disks.
With the size of the body 3270 x 1700 x 1545 mm and a wheelbase of 1980 mm Changan Lumin turned out longer and wider than its competitors. Even 14-inch wheels, which are equipped with an electric car – bigger than competitors have.
The car has three doors and four seats. It can not boast of a large volume of internal space. The trunk volume is only 104 liters, but if you fold the rear seats (50/50 ratio), you can get space of 580 liters.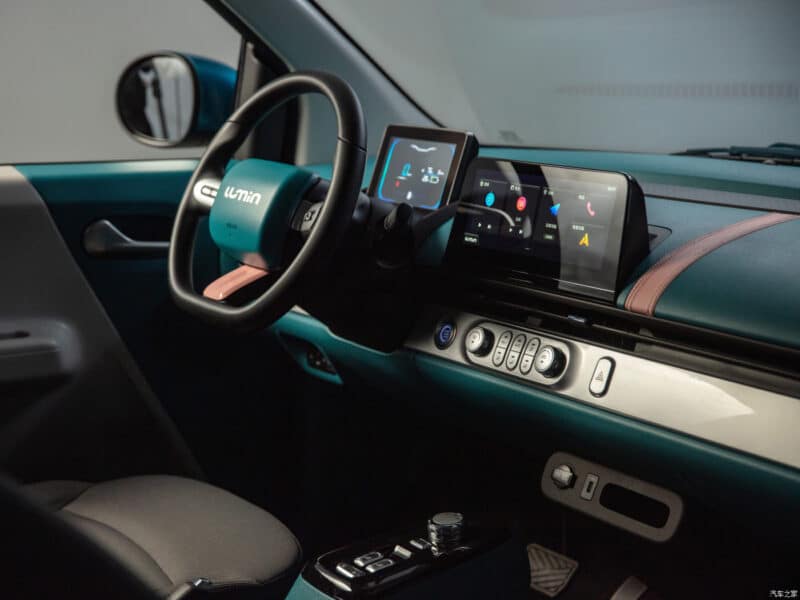 The interior is a mix of retro style and modern technology. At the same time it does not look so spartan, as its competitors. In addition to a full climate control panel, multifunctional steering wheel and a fully electronic dashboard, Lumin received a 10.25 inch central multimedia screen. It is able to display navigation, connect a smartphone, has Bluetooth, voice control and allows you to personalize its settings and interface.
The car is equipped with two airbags and intelligent braking system Nbooster, which can effectively reduce stopping distance, while providing recuperation of braking energy and increasing the range.
Changan Lumin is equipped with a 30 kW (41 hp) electric motor and a single-speed gearbox. But the capacity of lithium-iron-phosphate battery can be different. The higher it is, the more distance the Lumin can cover without additional recharging.
At the moment, there are versions with 155 and 210 kilometers of range. A little later Changan promises to present another, the long-range version of the electric car, which will be able to travel 301 kilometers on one charge. The maximum speed  is 101 km/h.