The range of Opel Rocks-e compact EV is growing: the passenger version, introduced last summer, is joined by the cargo version Rocks-e Cargo. The vehicle has a cargo volume of 400 liters. On a single 5.5 kWh battery charge the electric car covers a modest 75 kilometers, but its main advantage is maneuvrability – turning radius of 2.4-meter van is only 7.2 meters.
According to Opel, the Rocks-e Cargo is perfect for delivering pizzas, medicine and small packages around town. Instead of the passenger seat, the cabin is equipped with a cargo area, which is separated from the driver's seat with a partition. The cabin has a variety of recesses, pockets, nets and straps to secure the luggage.
Loading and unloading is carried out through the passenger door, and the cargo area is transformed with the adjustable floor – it allows to divide the space into two parts. The payload is 140 kilograms and the maximum cargo length can reach 1.2 meters.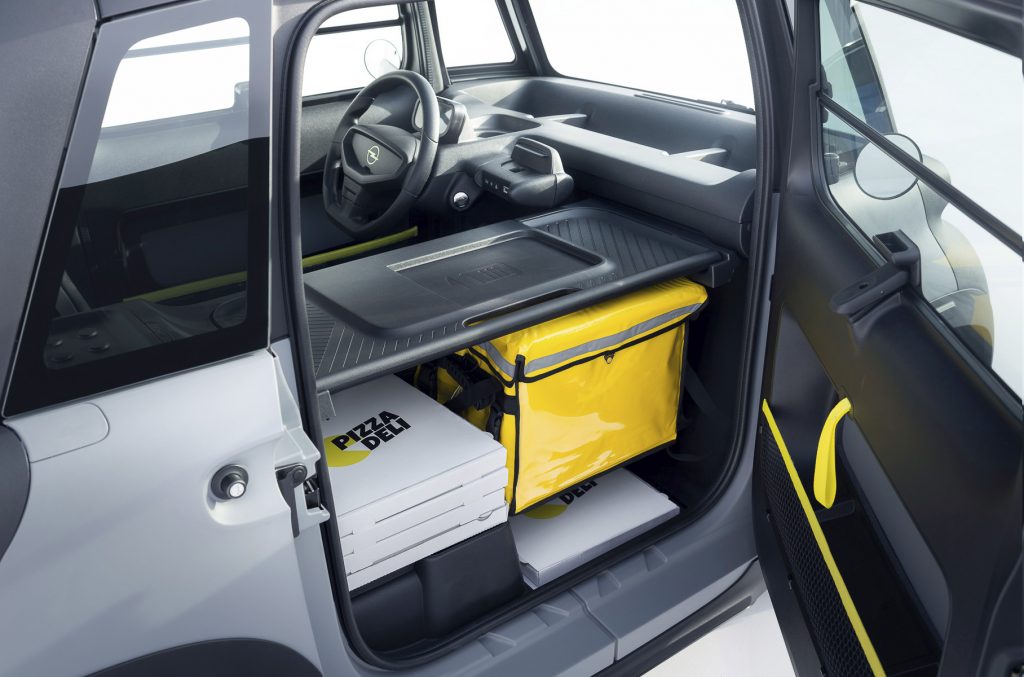 The Rocks-e Cargo is powered by an 8-horsepower electric motor, which allows the electric car to reach speeds of up to 45 kilometers per hour. It comes with a 3-meter-long cable (it takes three hours to fully charge it from the household socket) and the list of standard equipment includes LED headlights. For an extra fee you can order a version with a panoramic roof, which is unusual for a van.
The first markets for this model will be Germany and the Netherlands, where it will appear at the end of 2022. Prices have not yet been announced.
A similar model is already produced by Citroen. The Citroen Ami Cargo is equipped with the same 8-horsepower electric motor and is available with a two-level floor. It costs 6,490 euros. Opel Rocks-e Cargo is likely to be in the same price category.