Except for dedicated cyclists who ride for pleasure rather than necessity, very few people willingly brave riding in harsh weather conditions such as pouring rain, winter winds, sleet, or snow. For the majority, cycling is strictly reserved for the warmer months or when the weather permits.
This raises an important issue. Despite the efforts of e-bike manufacturers to encourage people to ditch their cars in favor of bicycles for the sake of the environment, cost savings, time efficiency, and improved fitness, one question remains. What happens when it rains?
The Quadvelo, an innovative electric quad bike, aims to bridge the gap between bicycles and cars by providing essential protection from the elements, extra storage space, and improved stability and safety. While enclosed electric quad bikes exist on the market, they have yet to gain widespread popularity. Quadvelo hopes to change that by establishing itself as a leading brand in the space.
Since its inception in 2017, Quadvelo has been a collaborative effort between teams from Belgium, Hungary, Germany, and Slovakia. The chassis design wasn't finalized until 2019, and the first prototype was completed the following year. In April 2023, the limited production was unveiled at the SPEZI in Lauchringen, Germany.
Quadvelo plans to produce a few more limited series of 10 units before going into full production. At the event, the company took pre-orders and conducted test drives to gauge interest in this unique vehicle. Encouraged by the positive response, they firmly believe there is a market for this type of electric vehicle.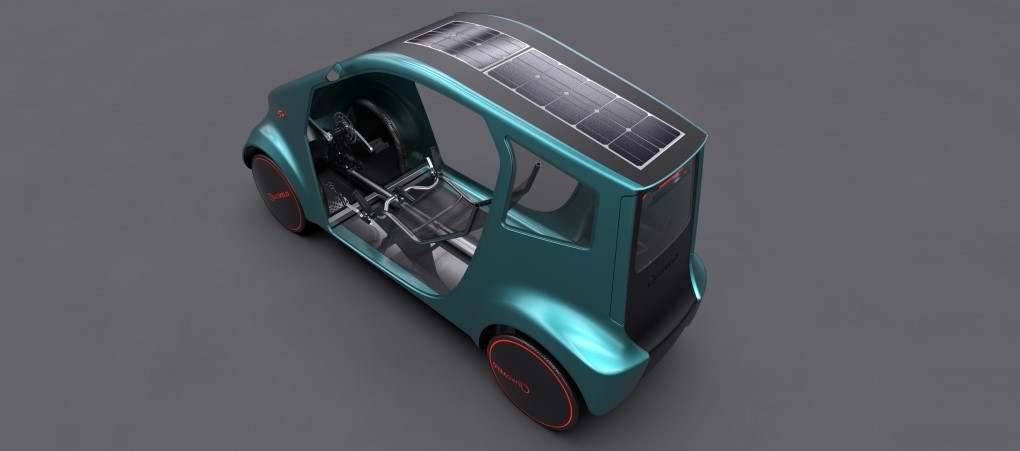 The Quadvelo bears a striking resemblance to a hybrid bicycle/car, making it visually appealing. It operates as a four-wheeled electric bicycle and has a fully enclosed cabin with optional doors. In addition, there is a storage compartment behind the rider's seat that can alternatively accommodate a child's seat, allowing a passenger to accompany the rider.
Its compact dimensions of 250 cm in length, 84 cm in width and 133 cm in height allow it to meet the requirements of cycle paths while remaining visible in road traffic. Constructed with an aluminum frame and a fiberglass epoxy body with scratch-resistant polycarbonate windows, the Quadvelo also includes mirrors on each side, front and rear lights, and indicators to comply with road regulations.
Equipped with a 250W Sachs RS 925 engine located in the front, it offers a torque of 112 Nm (83 lb-ft) and a top speed of 25 km/h (15.5 mph) with assistance. However, it is still possible to pedal faster if desired, thanks to the 9-speed transmission provided by Quadvelo.
The battery has a range of 75 km (47 miles) on a single charge, but the estimated range can be increased by adding a second battery and optional solar charging with roof-mounted panels. The Quadvelo weighs 85 kg (187 lbs) without doors and can carry a maximum payload of 200 kg (441 lbs), including the rider and any cargo inside.
In addition to weather protection and greater stability on the road compared to a regular bicycle, the Quadvelo offers enhanced comfort with its four-wheel suspension and cushioned seat. It also offers several advantages over a passenger car, including no insurance, fuel or vehicle taxes. It can access car-free areas of the city, bypass traffic by using bike lanes, and is easier to park due to its smaller dimensions.
Notable features of the Quadvelo include a front air intake, windshield defogging fan, manual wiper, interior lights, touchscreen display, and Bluetooth remote control for the battery and motor. Five color options are currently available, but more will be added when the EV goes into production.
Quadvelo is planning to introduce some upgrades for the production model. These upgrades include optional Samagaga hydraulic brakes to replace the current Sturmey Archer 90mm drum brakes and the addition of solar panels.
Despite the potential benefits of these electric quads in urban traffic, their limited presence on city streets can be partly attributed to their high price. Like other electric quads that have attracted attention in recent years, the Quadvelo falls into the price range of "real" cars. Starting at €9,900 ($10,900), not including shipping, many cyclists may prefer to get wet or opt for a car instead, given the amount of money involved.