In the early 1960s, the Soviet leadership seriously considered the issue of creating a compact, cheap and modern car available to any Soviet person. The Serpukhov Motor Plant (SMZ) was chosen as the main factory for the project. By that time, the plant was producing S-3A 3-wheeled car for the disabled, and its team had the appropriate experience. The new model had to transform SMZ, turning it into a major automobile enterprise. It was planned not only to give a small car to the disabled for free, but also to sell it to any person.
In 1961, by the USSR Council of Ministers' Decision, the Serpukhov Motor Plant was ordered to develop a new mass-produced car and put it into production. NAMI, automobile plants ZIL and AZLK specialists were involved into the development. Engineers divided tasks and began to develop the body, engine, transmission and suspension. The project was named SMZ-NAMI-086 "Sputnik" ('Satellite').
Pretty quickly, there were not only sketches on paper, but also full-size layouts. The novelty received an incredibly progressive appearance for the early 60's. The design of the "Sputnik" was much more modern than its European counterparts, the BMW Izetta or the Fiat 500.
The small size (only 3.3 meters in length) did not allow to make a spacious interior. The 2+2 scheme meant two front seats and a small sofa for the rear passengers.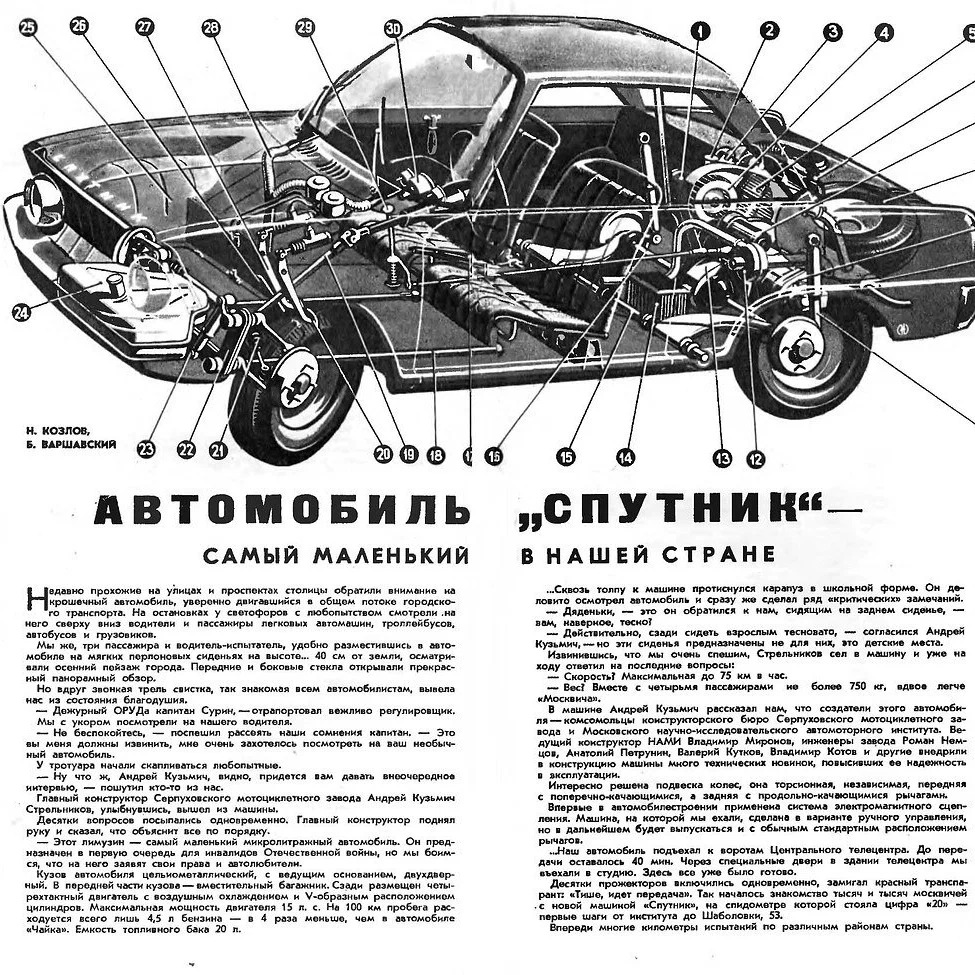 The car used incredible technical solutions for those years: fully independent torsion suspension, rack and pinion steering and electromagnetic clutch. That is, there were only two pedals under the driver's feet – gas and brake, and the clutch was automatic.
Pretty quickly the concept car was transformed from a plasticine model into a running prototype and went for tests.
The power unit was placed at the back. The plan was to install a small air-cooled V2. For a car weighing just over 500 kg, it had enough power to run up to 75 km/h. The car has a rear-wheel drive. Engineers had to make the car as simple and maintainable as possible, available to every Soviet citizen.
In fact, "Sputnik" could have changed the lives of an entire generation of Soviet citizens. After all, it was cars like this that pulled postwar Europe out of economic ruin. But the officials thought the car was too avant-garde and fantastic, that is why SMZ never became the Soviet "Detroit". The project was closed.