The Start-up Squad Mobility, headquartered in Amsterdam, has introduced the L6e-class electric light vehicle. It is called Squad from Solar Quadricycle — a solar-powered vehicle that's halfway between a scooter and a small car.
The power for the electric drive with wheel hub motors, which accelerates the squad to a maximum of 45 km/h, should be generated largely by the mounted on the car solar cells. According to the manufacturer, depending on the weather, up to 9,000 kilometers per year are feasible with solar energy. An unspecified battery, which can also be removed for charging, ensures further mobility. Additional battery packs for more range should be an option.
Robert Hoevers, one of the founders of Squad CEO, explains, «Our solar electric squad can generate electricity in a sunny country for up to 9,000 kilometers a year. For drivers who drive about 30 kilometers or one hour a day for 300 days a year, it is completely emission-free. Most vehicles in this segment are not driven more than 6,000 kilometers a year.»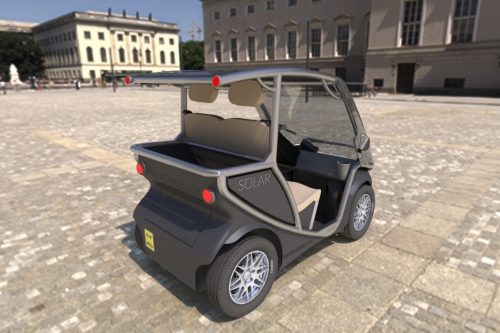 The squad offers space for two adults and is designed as a 2+2-seater. The rear seats should be suitable for children up to a size of 1.25 meters. Alternatively, there are variants with cargo area for delivery services.
«Commuting by bike or public transport is not always the best solution, for example in bad weather or for people who do not live near a train station,» says Robert Hoevers. «A conventional car needs ten square meters of traffic, and the Squad has two square meters. Four Squads can stand in a parking lot where a regular car is parked.»
Squad is already accepting pre-orders for its solar car with a price of 5,750 euros (excluding VAT). Deliveries should start in 2021.
Specifications:
Frame: Tubular roll cage
Passengers: 2 persons
Rear bench: 2 children up to 1.25 meter (where legal)
Storage: 68 L  /  243 L (Cargo)
Dimensions: 2000×1000×1600 mm
Max speed: 45 km/h
Suspension: 4 wheel independent
Motors: 2 x in-Wheel RWD
Power: 2 x 2kW (total 4kW)
Batteries: 2 x portable Li-ion
Charging: Solar & 220 V
Turning circle: 6 meter
Battery range: 50 km per Batt
Max. Batt. Range: 100 km+
Solar Range:  20 – 30 km / day