Addax was a French car manufacturer, located not far from Paris. Addax Type 47 was its first and the most popular 3-wheeler fitted with a polyester body. It was equipped with a Fichtel and Sachs 2-cylinder 47 cc engines rated at 2.6 hp at 6700 rev/min. It has a top speed of 45 kph. Overall dimensions – 1830x1120x1550 mm. Fuel consumption – about 3 liters per 100 km.
Addax Type 47 Version Normale
The Normale was the base version in the range. It was fitted with a 47 cc 2.6 hp engine. The standard equipment included an electric starter, automatic clutch and shifting gear. It was perfect to "go to the town center and easily to park there" according to the official brochure.
Addax Type 47 Version Sport
The Sport version had the same 47 cc engine, but rated at 4.5 hp. It was also equipped with an electric starter, 3-speed manual gearbox and decorative stainless steel hoop. The body was painted only in one colour "Orange Rouge". Another special equipment: odometer, rev counter, antenna whip, adjustable dampers, tires AR 16 X 650 X 8.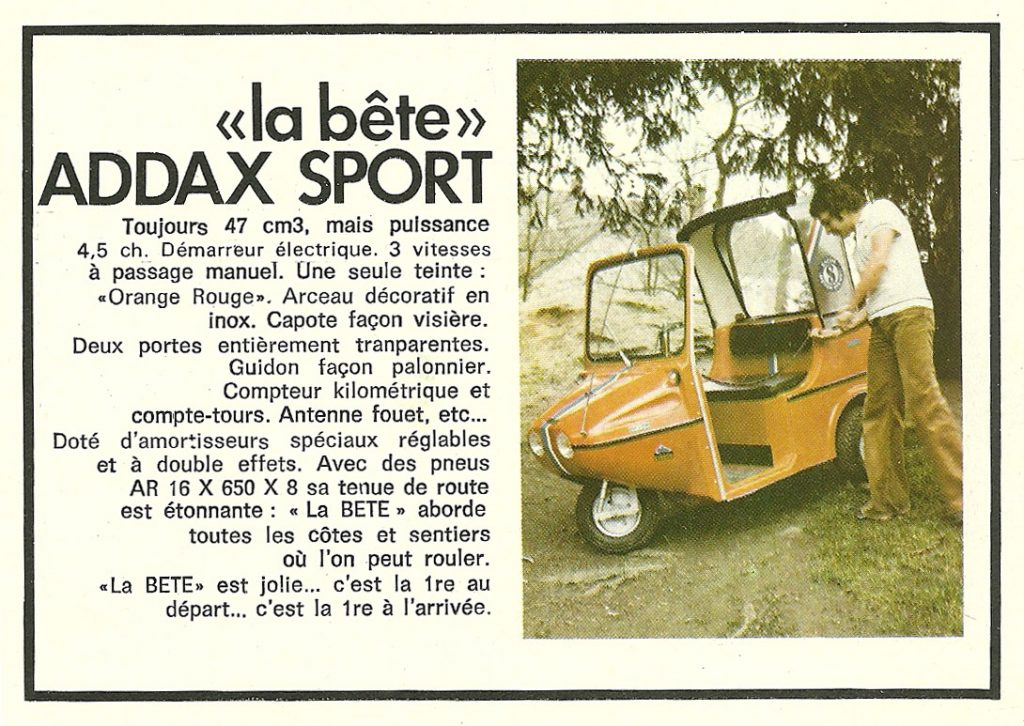 Addax Type 47 Version Le Bord De Mer
The beach version of the base model with a soft canopy and bigger tyres AR 16 X 650 X 8 from Version Sport. 2.6 hp engine was a standard equipment, while 4.3 hp version was an option. The only available colour is Bright Yellow.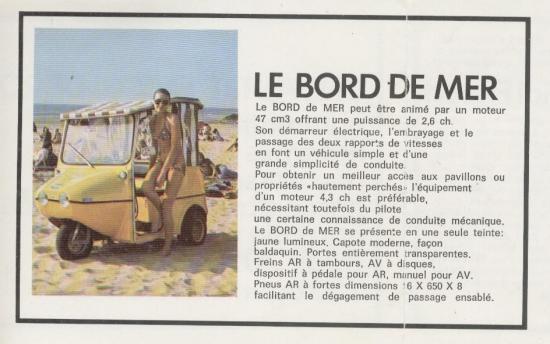 Addax Type 47 Version Prestige
The version with a hard top and side doors. Extremely rare.