The Bambi Automotive Factory SAIC and F in the city of Buenos Aires manufactured the Bambi, under license from Fuldamobil of Germany. It was the local version of the German Fuldamobil S-7 from 1959.
The bodies and chassis were local built while the Sachs LDR 200 engines were imported from Germany through the company Televel, which owned the Utility Automotive Factory. The Sachs single-cylinder engine had a displacement of 191 cubic centimeters and delivered a power of 10.2 HP at 5,250 rpm, with a compression of 6.3:1. This engine was the same one that powered the Dinarg D-200 and the Messermicht. It was fitted with a four-speed motorcycle-type gearbox.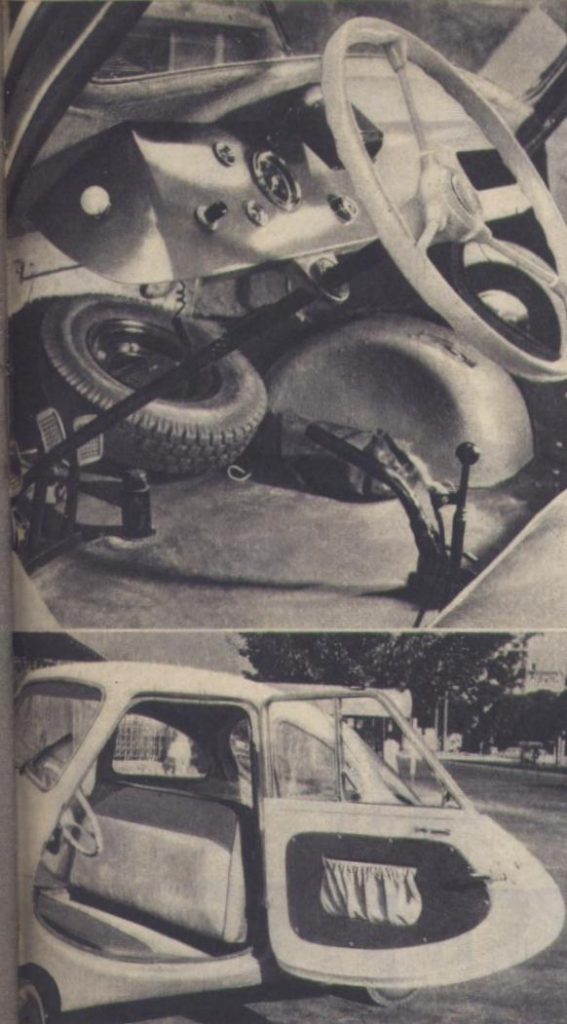 To shift into reverse, it was necessary to stop the Bambi's engine and turn the reverse key, which changed the direction of rotation of the engine. Also, the gear lever always stayed in the same position.
The engine was air cooled. It brought Dynastart of 12 volts that was a starter and dynamo in a single set. The fuel tank was located on the backrest of the Bambi's rear seat. The brakes only operated on the front wheels, while the rear wheels supported the mechanically operated parking brake.
The bodywork of the felt-reinforced polyester resin and glass wool (GRP) also contributed to light weight. The frame was made of square section tubes. The wide-opening doors opened back, suicide doors, as they are often called. The interior of both doors had space for two large pockets to store objects. This was possible due to the sliding windows, which had a spring lock. The windshield, door windows and rear windows were made of safety glass, while the rear window was made of Plexiglas.
The front suspension of the Bambi was independent and the rear of the swingarm with coil spring with central shock absorber. The fuel tank had 17 liters capacity and 2 liters made up the reserve of the car. The factory assured that they could travel between 20 and 22 kilometers per liter.
The road test of the Parabrisas magazine number 18 May 1962 obtained 17.5 kilometers per liter en route at 70 kilometers per hour, while in the city the value obtained was 16.5 kilometers per liter. The maximum speed was 80 kilometers per hour according to the Parabrisas magazine road test.
The interior was quite spartan and only had a speedometer. It also had a single wiper with 44 sweeps per minute. There were no factory turn signals. The spare wheel was located in the trunk in front of the passenger's feet.
Bambi Sporty
The Bambi also had a pick-up version called Sporty with a load capacity of 300 kilograms. One open-top model and one with a closed cabin without doors were manufactured. This last version had the optional canvas roof.