October 1952, Bond introduced the 3rd generation of its 3-wheeler – Bond Minicar Mk C. It can be easily distinquished by a revised front end with headlights integrated in the front wings. It also was equipped with a Villiers 6E 197cc engine and a 3 speed direct change gearbox. The new front suspension allows 180° steering, lock. (instead of 90°), thanx to a new worm and sector steering arrangement. 'U' turns could be acheived in about 10 or 11 feet making a reverse gear almost unecessary, although some cars had the option to start the engine backwards to provide reverse motion. The single side door became a standard fixture on the Mark C.
The engine, again a Villiers unit, continued to be mounted as part of the front suspension and steering. The rear suspension was by "six-hole" Flexitor bonded rubber units produced by George Spencer Moulton & Co. Ltd. and the brakes operated on all three wheels (finally!). The horn, wiper motor and lights are still used 6 volts electric. Starting was by means of a floor-mounted handle and cable to a modified kickstart lever. Deluxe version received an electric starter (but the floor-mounted handle was retained – just in case!). In June 1953, the company introduced Villiers 8E 197cc engines and a chain adjuster.
Initially Bond Minicar Mark C was available in two versions: the Standard Tourer or the Deluxe Tourer with a single bench seat, electric starter and rear bumper. Several improvements were announced for 1954. First of of this is a new shape Triplex windshield and frame. There were also some changes in steering, transmission and dashboard. The rear wings were made of steel from this moment when supplies of aluminium became difficult to obtain.
Since 1955, bonnets and rear wings were now being made from glass fibre. There were also some modifications of the brake system and silencer. Another major update of Bond Minicar Mk C was made in 1956, when all vehicles got a new 'Type II' front grille and bonnet and the windscreen rubber was fitted with a new cream filler strip on the outside.
Bond Minicar Mk C photos
Special versions
Bond Minicar Mark C Minivan
The only prototype of Mk C with Minivan body was shown in November 1953 at the 1953 Motorcycle show. It has entered service at Sharp's Commercials as their daily delivery van. When it was featured in the Spring 1963 Bond Magazine, it had just completed 100,000 miles of stop/start motoring.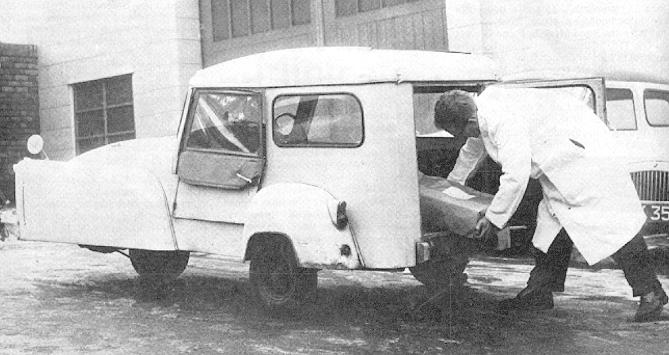 Bond Minicar Mark C Family Safety
The Family Safety model was introduced in March 1954. A modified rear body included 2 inward-facing hammock seats allowed 2 children to be carried behind the front seat. It also had redesigned front and rear sidescreens. Both the Standard Tourer or Deluxe Tourer versions were equipped with a rear bumper. In 1956 this versionhad new shape glass fibre rear wings and new style rear lamps.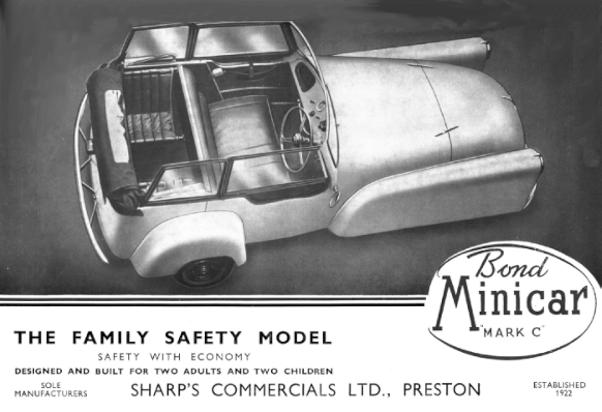 Bond Minicar Mark C Minitruck
The Sharp's Minitruck continued in production with all the new Mark C styling and mechanical features. The last one was made in March 1956.