The old Spanish company Triver was known for producing large, heavy items such as safes and hydraulic jacks. Later, the company also engaged in the production of small auxiliary and stationary engines. The company received a license to manufacture vehicles, but in order to keep it, they needed to build at least 50 cars. The company's CEO José Antonio de Sopenya, turned out to be an excellent industrial designer and developed a small car.
In 1953, the first prototype was built — a small four-wheeled car with a drop-shaped body, the rear wheels of which were installed very close to each other. The two-stroke 339-cc opposite air-cooled engine had an output of 14 horsepower and was installed right in front of the rear wheels.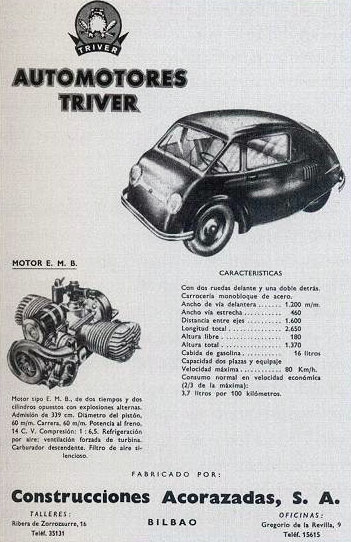 The little car weighed about 1100 pounds (500 kg). The body was hand-hammered over a wooden tank. Despite the fact that it looked quite interesting, the first testing revealed a number of flaws, so it took another couple of years to complete the design. The final version appeared only in 1955.
It was decided to use the new inline two-cylinder 431-cc engine rated at 16 hp, which was still air-cooled. The car still weighed about the same, but the body design was pretty different, even if the fundamental tadpole-style layout with the narrow rear track was maintained. The microcar was named Rana 500  which means "frog" in Spanish.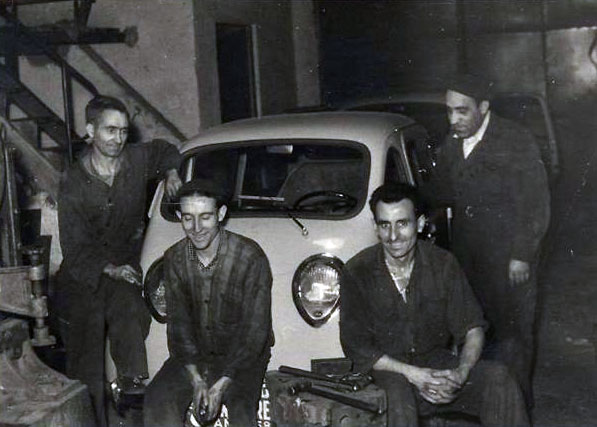 They added more side windows in the back, which increased its total number to 8, significantly improving all-round visibility. The front fenders were larger and more convex, the headlights got an interesting drop shape, and the air vents on the car were monstrously increased. The Rana 500 had suicide doors and 2+2 seats, where the rear seats were designed for children or a small dog. It got about 40 miles per gallon (5.9 liters / 100 km) and could accelerate to almost 50 miles per hour (80 km/h).
The company was going to make 1,000 microcars. But these were extremely optimistic plans — in the period from 1955 to 1960 only 75 cars were built and sold. In 1960, the car cost 45,000 pesetas, which today is about 10,000 euros. One of the reasons is strange exterior design. I can't argue with that, but just look at the another Spanish-built microcar Biscúter which was sold in a quantity of about 10,000 pcs.
Specifications:
Country: Spain
Years: 1955-1956
Seats: 2+2
Engine: two-cylinder 431-cc 16 hp, air-cooled
Weight: 1100 pounds (500 kg)
Top speed: 50 mph (80 kph)
Fuel consumption: 40 mpg (5.9 l/100 km)
Producing amount: 75 cars