The looks of the A.F. Spider tended to come in for some criticism, and tended to give the car an aquatic or amphibious appearance, so a new model was designed. This new model was called the Grand Prix and used similar construction to the Spider and in fact the prototype was constructed by converting a spare Spider.
The obvious differences between the Grand Prix and the Spider were the wings and the tail. The wings disappeared and were replaced by cycle type mudguards for the front wheels. The tail was rounded off, losing the agressive looking point at the rear and making the car slightly shorter. Further changes included a slightly shorter bonnet, further exposing the engine, and a V shaped windscreen or aeroscreens to replace the previously flat screen. A spare wheel was added and mounted either vertically on the side of the car, or horizontally in a recess in the top of the tail. The already very strong wooden structure was further strengthened by adding an inner skin to the hardwood frame an injecting foam into the cavities.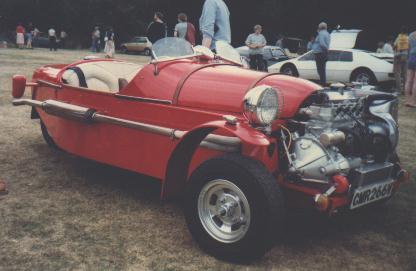 This Grand Prix was built to a very high specification and was fitted with a highly tuned Cooper 'S' engine – geared for a top speed of over 140 mph! No two cars produced were the same, details such as engine specification and instrumentation varied from car to car. Engines used covered most of the available sizes from 850 cc to 1275 cc and some were highly tuned giving cars top speeds well in excess of 100 mph. One Grand Prix was fitted with an automatic gearbox.
The total production of A.F. cars appears to be 7 Spiders 5 Grand Prixs and 1 four wheeler. These figures are probably right, however production records have been lost. Spiders were produced between 1969 and 1972 except for one which was constructed from left over parts in 1974. Grand Prixs were produced between 1973 and 1980 and the Four Wheeler in 1980.
The cars seem to have lasted very well, 6 Spiders, 4 Grand Prixs, and the Four wheeler are believed to have survived. One Spider was shipped to Australia, and has recently been discovered after it's whereabouts were unknown for a number of years. Most of the known survivors are in good condition and some are still used on the road.