1956 Messerschmitt KR200 683-miles Time Capsule for Sale
Microcars emerged after World War II as a replacement for motorcycles and remained in vogue through the 1960s due to their fuel efficiency and low cost of maintenance. Among the many microcar manufacturers in Germany during this period, the BMW Isetta is arguably the most famous.
During World War II, Heinkel and Messerschmitt were aircraft manufacturers. In the 1950s, they ventured into the microcar market because they were banned from producing aircraft for a decade. Heinkel first dabbled in bicycles and scooters before introducing the Kabine in 1956. Messerschmitt joined the trend in 1953 with the KR175, which, unlike other bubble-shaped microcars, had a unique aircraft-inspired design.
Its canopy roof accommodated two people and was powered by a 173cc, two-stroke, single-cylinder engine from Fichtel & Sachs. With a top speed of 50 mph (80 km/h), the KR175 delivered an impressive fuel efficiency of up to 64 mpg over three years of production.
The KR200, an updated version of its predecessor, was introduced by Messerschmitt in 1955. Despite its similarity to the previous model, the KR200 featured hydraulic shock absorbers on all three wheels, a revised suspension setup, and an improved interior design.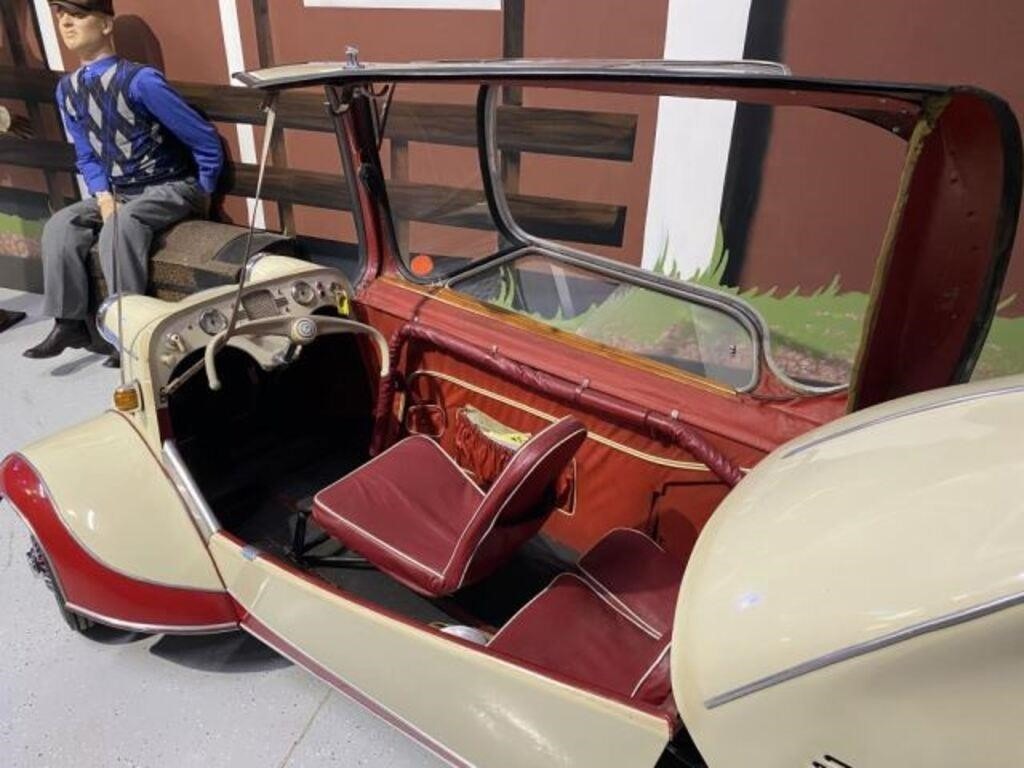 The microcar weighed 230 kg and was powered by a 191cc two-stroke engine that produced 10 bhp, giving it a top speed of 56 mph (90 km/h). A specially prepared version of the car broke 22 speed records for three-wheeled vehicles under 250cc in a 24-hour race at the Hockenheimring. When it hit showrooms, the KR200 was an instant success, selling 12,000 units in its first year. Ultimately, Messerschmitt produced 41,190 of the microcars before ending production in 1964.
While the KR200 may not be a highly sought-after classic, it has a dedicated following among microcar enthusiasts and is a fascinating piece of automotive and aviation history. So I was thrilled to come across a low-mileage KR200 that bears a striking resemblance to a freshly built Messerschmitt.
This particular sample is not your average car that has traveled 30,000 to 50,000 miles (48,280 to 80,467 km). It is an authentic time capsule with only 683 miles (1,099 km) on the odometer. Its immaculate condition inside and out is evident. This 70-year-old vehicle runs and drives like it's brand new and even comes with all the original paperwork, which is a rare accomplishment.
Interestingly, this Messerschmitt resides in Newburgh, Indiana during its retirement years. It is uncertain how many KR200s exist on this side of the pond, but since the 1950s was a time when American drivers were buying bigger and more powerful vehicles, only a few examples are estimated. The auction currently stands at $10,500 with 17 days to go. It will be fascinating to watch the final price.