Acura's 500hp V6 turns Mini into a perfect mid-engined slipper
The world famous Mini, developed by the British Automobile Corporation (BMC) in 1959, was conceived as a cheap and practical city car for everybody.
Now, 61 years later, this is a popular classic which many tuning studios call the ideal base to realize your wildest dreams. Gildred Racing was thinking outside the box, turning the Mini into a slipper with a 500 horsepower engine located in the middle.
The Californian company took a 1974 car and first threw out the four-cylinder engine (and four-speed manual transmission too), and also completely disassembled the interior.
As a result, only the front seats returned; The space occupied by the tiny rear seat is now home to the 3.2-liter V6 that started life under the hood of the early 2000s Acura CL Type S. It is mounted transversely and rotates the rear wheels via a six-speed manual transmission.
In stock condition, this motor produces 260 horsepower, which would be more than enough for a small car, but Gildred Racing almost doubled its power to 500 horsepower and 520 Nm of torque, adding a lot of custom parts, including a supercharger.
That's 466 horsepower more than the standard 1974 Mini 850, so the amount of chassis upgrades is also quite large. Changes include more powerful Wilwood brakes and a completely redesigned suspension.
While packing a V6 into a small front-wheel drive car like the Mini was a challenge, Gildred Racing did an excellent job. The engine compartment now houses the fuel tank and radiator, and a huge exhaust can be seen when opening the trunk.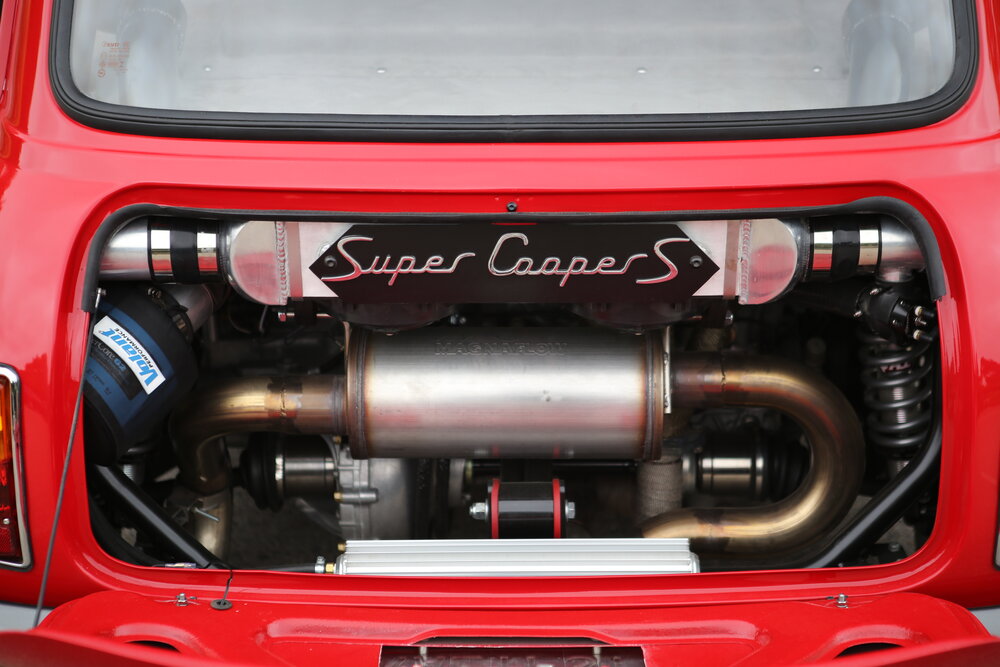 Specifications have not yet been published. Gildred Racing simply said their Super Cooper was "quite impressive." The stock Mini 850 took about 34 seconds to reach 100 kilometers per hour.
The interior received a number of changes. Then came the 9.7-inch iPad, which acts as a touchscreen display for the multimedia system, an Alpine audio system, push-button ignition, power windows and doors and automatic air conditioning.
Passengers sit in Recaro bucket seats, upholstered in leather and suede, heated and cooled. And yet, when viewed from the outside, the Super Cooper looks like an almost standard Mini. It is wider and lower than the stock, but not too prominent with wheel arch extensions, air vents and other fashionable additions.
The red car you see on your screens is the first Super Cooper Type S. The tuner plans to make nine more of these, so you still have time to grab one if you're willing to part with the equivalent of US $150,000.