MINI Remastered Has Got a Guitar Tube Amplifier
British company David Brown Automotive unveiled a special version of the restomod MINI Remastered, dedicated to the 60th anniversary of Marshall Amplification. The Marshall Edition hatchback was painted in the manufacturer's signature colors, equipped with wireless headphone charging, and a completely redesigned audio system with a DSL1 Combo guitar tube amplifier and a bluetooth speaker built into the trunk.
Technically, MINI Remastered Marshall Edition repeats other David Brown Automotive restomods. There is a refined 1,330 cc A-series naturally aspirated 4-cylinder 84 horsepower engine under the hood of the hatchback, coupled with a 5-speed manual gearbox. But the car is painted in the style of Marshall products: a black tint with gold accents, and the color of precious metal used for calipers and interior trim.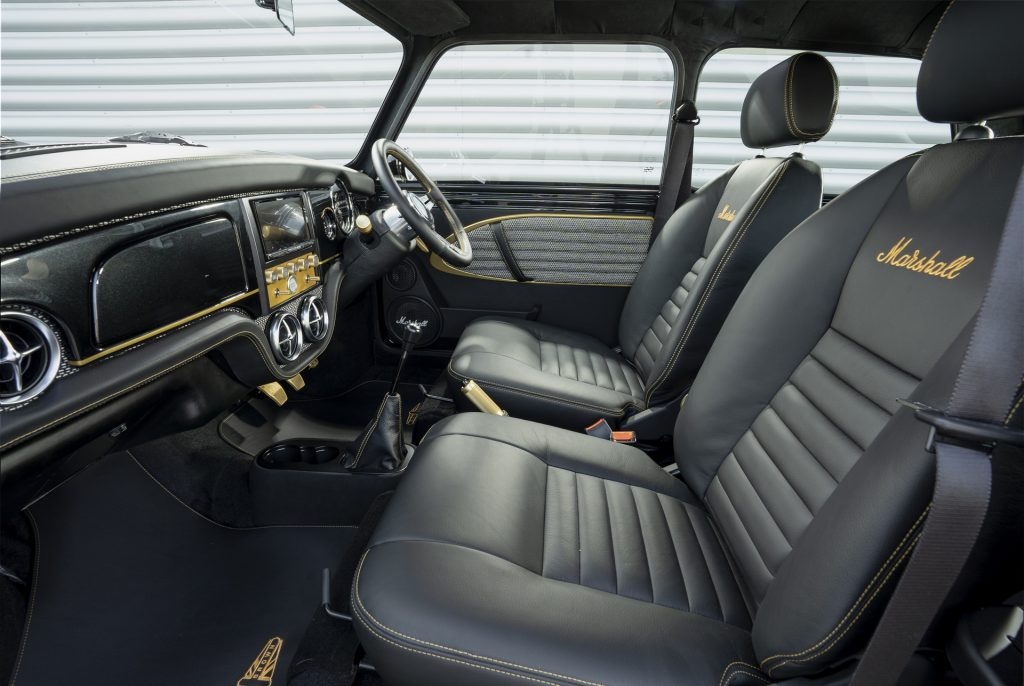 The classic interior of the MINI Remastered features a media system with a seven-inch touchscreen display. The seats are upholstered in genuine leather and decorated with Marshall logos. On the pedals are engraved symbols of play (gas), pause (brake) and rewind (clutch) – a hint at the musical themes of the edition.
However, the main feature of the car is not in a décor. The hatchback is equipped with new tweeters, additional speakers in the doors and the rear shelf, and in the glove box added wireless charging for headphones Marshall Motif A.N.C.
The restomod's trunk is lined with leather. A DSL1 Combo tube guitar amp with its own power system and a Marshall Emberton portable bluetooth speaker are installed there.
The circulation of the MINI Remastered Marshall Edition will be 60 copies, one for each year of Marshall Amplification's existence. The cars will be available in both right- and left-hand drive versions. David Brown Automotive is ready to tell the price only on personal request.