The Czech Republic has made a camper that can be driven from 14 years old
Don't even have your ID yet, but would you like to escape the daily duties of primary school and go camping in the countryside with a motorhome? French manufacturer Vans Sans Permis is introducing an unconventional solution by launching the first camper van for which you don't need a driving licence in France. It's called the Tiny Van and can be driven by anyone aged at least 14.
The miniature Tiny Van is aimed at the new young generation of "campers", which it hopes to attract with the equipment of a full-size motorhome. As standard, it has a two-seater cab, two seats in the dining area and two beds in the roof tent with an internal area of 210×120 centimetres. This can be opened or closed in just 30 seconds, so you can simply sleep wherever you like.
Independence from the outside world for wild camping is ensured by an integrated battery and clean and waste water tanks. The Camp Bistro 2 cooker, removable fridge, electric water pump, interior lighting, outdoor shower, stainless steel sink, interior electrical outlets, USB socket or removable table are also standard features of the small van.
And if you think of the French Tiny Van as just a modified electric van for delivering groceries around town, the technology is a pleasant surprise. The manufacturer has gone for the most reliable, economical and environmentally friendly small internal combustion engine on the market, a Kubota diesel unit that meets Euro 5 emissions standards.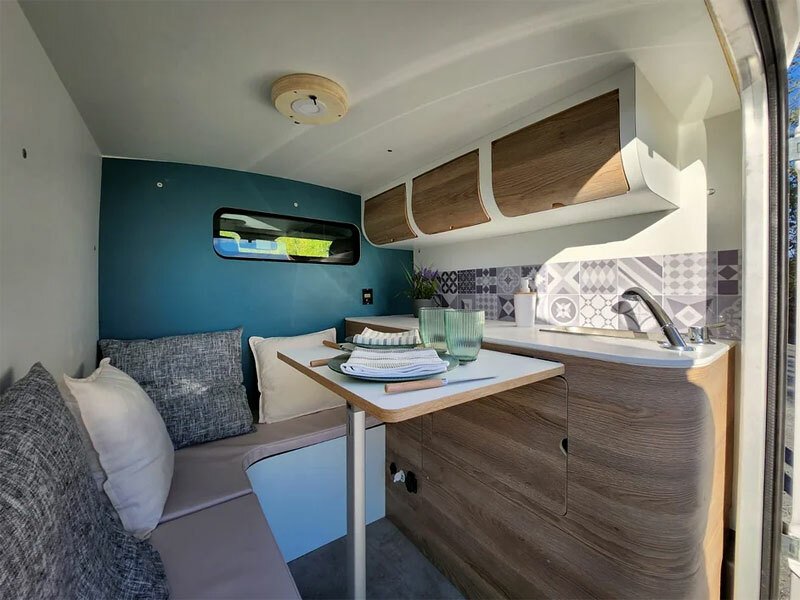 It has a displacement of 479 cc, a maximum output of 4.4 kW (6 hp) and, with a fuel consumption of 3.1 litres per 100 km and a 24-litre fuel tank, it offers a range of around 500 kilometres. The top speed is 45km/h.
Driving comfort when travelling for adventure is to be improved by optimised sound and thermal insulation as well as a radio with Bluetooth wireless smartphone connectivity. The Tiny Van is available to customers in white, blue and grey and is priced from €29,999 including tax.