French company Acrea was created in 2005. The first and the only model Zest debuted in Paris in 2006. These tiny and very simple roadsters with 2- or 4-seats have original oldshool style. The Zest is officially a quadricycle, and so can legally be driven on a motorcycle license in much of Europe.
The body is made of a special reinforced plastic. Thanks to this fact Zest weights only 380 kg. It is fitted with a 2-cylinder 505 cc engine rated at 21 hp. Overal dimensions of the base roadster – 3210x1510x1230 mm. Wheelbase – 2300 mm. Suspension is McPherson. Zest has disk brakes on all wheels. Top speed is about 110 kph. Fuel consumption – 4.7 liters/100 km. There are 4 available colours: Pine Green , Lemon Yellow , Ice White , Stylish Silver.
Acrea Zest Roadster 2-seat
The 2-seat roadster is the base model, debuted in 2006. When Stephane Solbach created his first prototype this is the car he was aiming to create. This little roadster reminds you what freedom is supposed to be about. It has lots of space to carry plenty of equipment for your other activities making it a perfect partner for those weekend adventures. Zest Roadster has only 2 seats, no doors and a tiny windshield.
Acrea Zest Roadster 4-seat
In 2010 Acrea presented a 4-seat version of its roadster. It has a longer wheelbase and 2 rows of seats. Other features are similar to 2-seat version.
Acrea Zest Pickup
By simply changing the rear engine cover, Roadster transforms to a practical Pickup for carrying those extra loads kike dogs, or camping, surfing, shooting or even flying equipment. The Pickup is every bit as much fun as the Roadster but with that little extra at the rear to carry on your jouneys. In addition to the voluminous front boot space the Zest Pickup has additional carrying capacity at the rear.
Acrea Zest Cabriolet
For those who want to enjoy open top motoring but with the added comfort of a full windscreen and soft top the Zest Cabriolet is the ideal country tourer. The electrically heated toughened glass windscreen is fitted with wipers and a soft top which can be simply rolled back for more open air driving in all weather.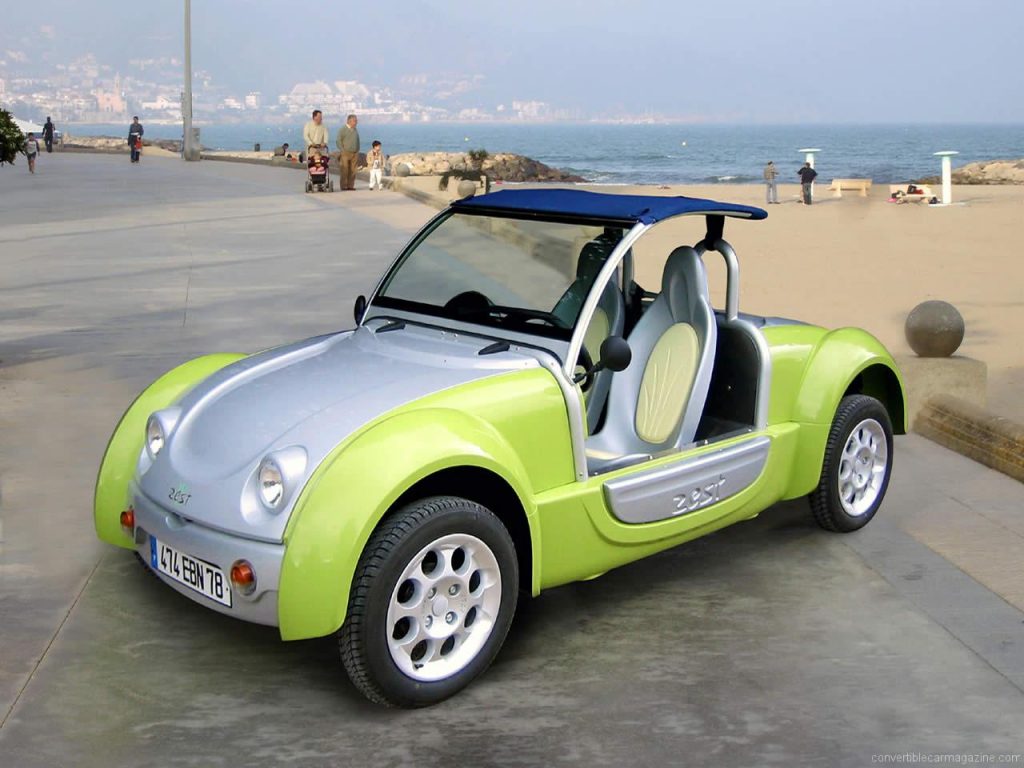 Acrea Zest videos