Popularity of Bond Minicars was growing up. The deman for a slightly more practical version led to the introduction of the Mk B model in July of 1951. The Bond Minicar Mk B got a more powerful 197 cc engine as standard. The new version also got a Triplex windshield with a new stronger frame and newly designed hood. Exterior design of Mk B was similar to Mk A. It also used the same aluminium body without roof, but had an additional luggage space in the rear. The rear mudguards become smaller, but wider to accomodate the wheel movement.
The main techincal improvement was a simple coil-spring rear suspension system, designed by Granville Bradshaw. It was of the sliding pillar type, a block carrying the stub axle rode up and down on two guide pillars mounted on a solid casting bolted to the side of the body. As you know, the Mk A doesn't have the rear suspension at all. The front suspension got hydraulic shock absorbers. Other features – more efficient brakes, improved electric and re-designed split rim wheels to aid tyre changing. The larger engine and extra weight of all the improvements increased fuel consumption level up to 76.8 mpg.
Bond Minicar Mk B photos
Special versions
Bond Minicar Mk B Minitruck
During 1952 Bond presented two versions of Minicar Mk B. The company decided to expand the range of its small vehicles, presented a light commercial model. 'Minitruck' was very similar to Minicar Mk B Tourer, apart from a modified hood with a rear "loading" flap. There was only a driver's seat inside placed in the right and a flat load platform extended from the rear over the normal passenger seat location. It has a load capacity of 3 long cwt (150 kg) and 24 cu ft (0.68 m3).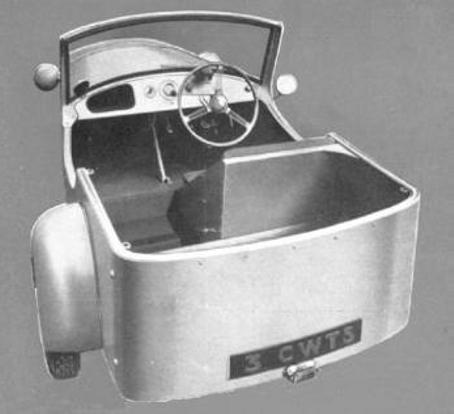 Bond Minicar Mk B Minivan
The second version was the Minivan. It had an aluminium cover with a rear access door, installed in the rear of the Minicar body. Very soon the cover got side windows and sideways-facing hammock style seats for two children in the rear. The updated version called Family Safety Saloon. Probably 'Safety' means that the rear door can only be opened from the outside.
Bond Minicar Mk B E.S.C.
E.S.C. (England's Smallest Car) was the first prototype of a future Mk C generation. It shared identical body styling and mechanical parts to the Mark B, but got a completely new front styling. Another feature – the door fitted on the left hand side. The body color was Ivory and the registration plate number – ECK 67.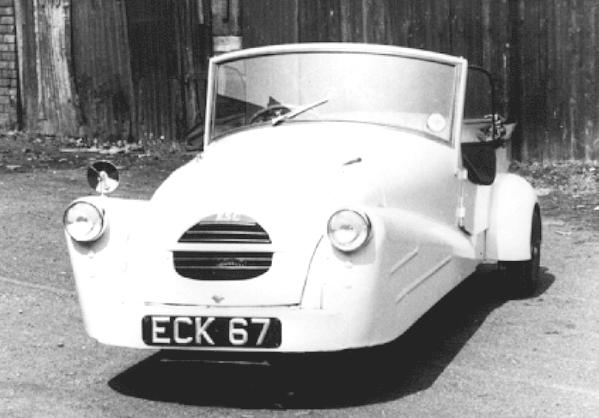 Bond Minicar Mk B videos