Do you remember the Citroën Ami One? Last year, Citroën presented this fun concept to celebrate its 100th anniversary. In the begins of 2020, Citroën showed the production version of this model. It will rival Renault Twizy.
The Citroen Ami would be available through rental and car sharing. The company immediately announce the French prices. If you want to rent this car it will cost you €20 per month, with a deposit of €2644. Car-sharing is also an option. This is possible via Free2Move for €0.26 per minute if you have a subscription of €9.90 per month. If you just want to buy the Citroën Ami, you can do that for €6000. At least in France. In this way, the brand wants to make electric driving accessible to everyone.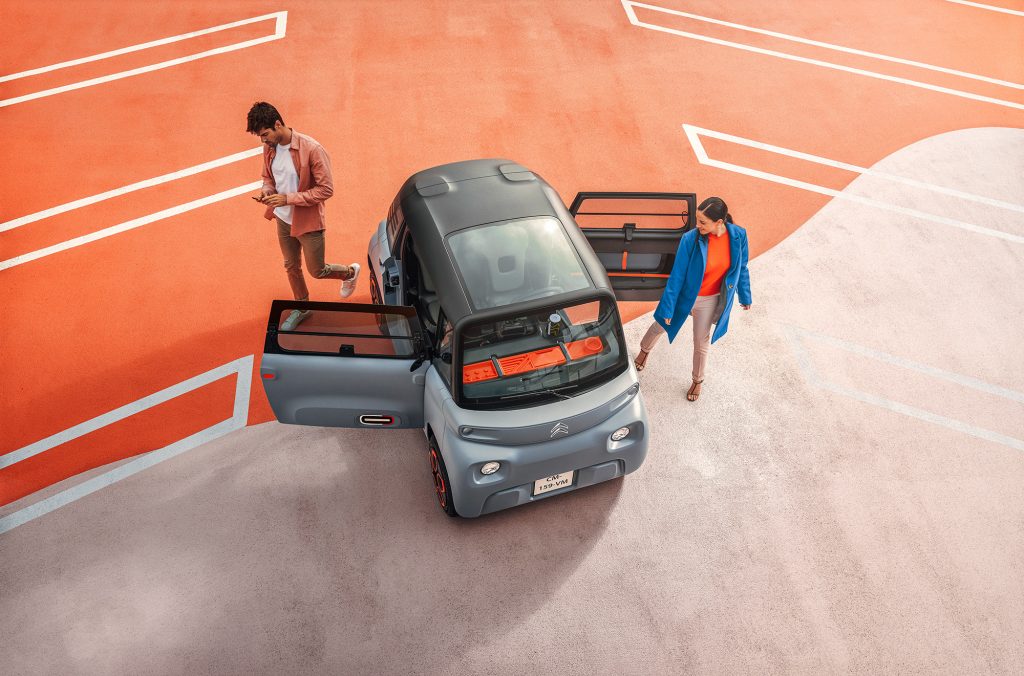 What do you get for the above amounts? In any case, a unique design. The production version is still quite different from the concept car. Although the square dimensions have remained, a lot has changed at the detail level.
The Citroën Ami has a number of striking details. The left door opens to the rear and the right door to the front, just like the concept. In a nod to Citroën's history, the side windows open by manually tilting upwards like the 2 CV. The side mirrors are also inspired by Citroen 2CV. On the side we see a mini cushion à la Citroën Cactus. The length of the car is 2.41 meters, width — 1,39 m, height — 1.52 m. This allows a turning circle of 7.20 meters. It weights only 485 kg with the battery.
"Ami has been designed from the inside towards the outside", — says Pierre Leclercq, Head of Citroën Style. "First of all, an interior that gives you a different feeling from what you may know, an interior that we wanted to be spacious despite a very small footprint. Then comes its trim. A clever symmetrical conception (front/rear, left/right door) building a strong character and unique functionality (door opening).

A specific exterior colour that is neither too feminine nor too masculine and that works with the different colour packs we have developed (blue, white, khaki and orange). Ami is a base that can become a completely customised object with exterior and interior accessories that are either pure style or offer real extra functionality as well as stickers that give it a completely different characters."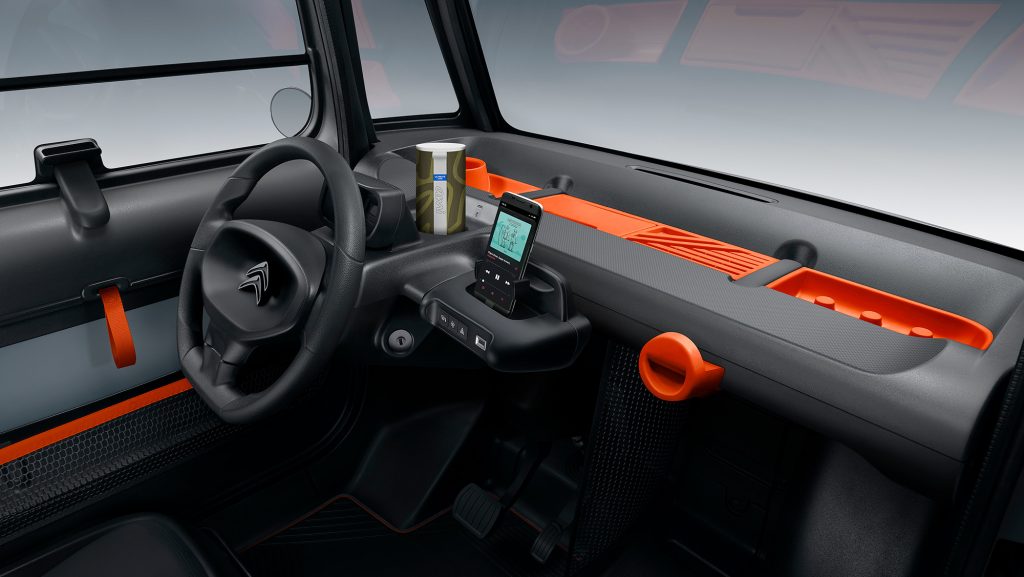 The vehicle – we should not call it a car – is cheap, but then you should not count on a large range. The range does not exceed about 70 km. That is less than the Twizy, which has a range of 100 km. A 5.5 kWh battery is responsible for the power supply. The electric Citroën is charged within three hours via a 220V socket.
Because the Ami is a "quadricycle", its top speed is limited by 45 km/h. The advantage is that you can drive it from the age of sixteen and in France even from the age of fourteen.
Specifications:
Length: 2.41 m
Width: 1.39 m (excluding mirrors)
Height: 1.52 m
Turning diameter between walls: 7.20 m
Weight without battery: < 425 kg
Total weight with battery: 485 kg
Battery: 5.5 kWh
Engine: 6 kW
Citroen My Ami Tonic
In 2022, Citroen presented the new top version My Ami Tonic, features a new khaki and yellow color scheme. On top of that, there are new headlight bezels, which Citroen says are inspired by sunglasses, and bespoke wheel covers, as well as "decorative" roof rails.
Inside, there are yellow accents reflecting the exterior, with door handles, a bag hook and two front niches done in yellow. Khaki-colored accents on the outside can also be found on the dashboard storage drawers and in the doors grid trim.