During the period 1949-1950, the mechanization of agriculture, agricultural machinery repair and component manufacturing companies were established throughout the country. This also happened in Győr with Győr Mezőgép company.
Based on the documents currently available, which are still incomplete, it appears that in the 1960s the Ministry of Metallurgy and Machinery demanded a motor vehicle for use in agricultural work. Starting on the line set by Mercedes-Benz Unimog and Steyr-Puch Haflinger, two staff members of the "Design Offices of the Ministry of Metallurgy and Mechanical Engineering" in 1968 created plans for a project called "vehicle with noble simplicity".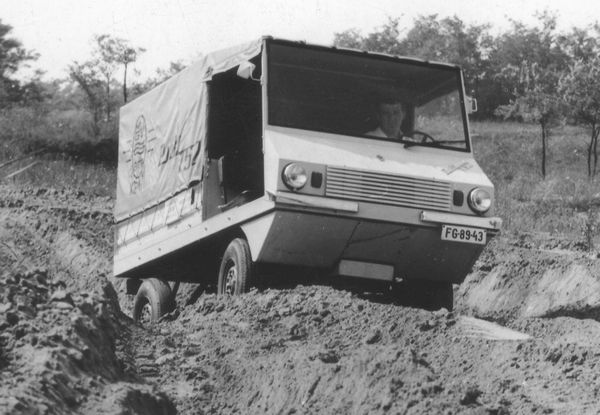 The "vehicle" was eventually named Puli, and Győr Mezőgép was commissioned to build the prototype. According to the company, the prototype is "one of a family of short- and medium-haul vehicles with a maximum load capacity of 750 kilograms. Depending on the type, the vehicles are not only suitable for off-road, but can also be used as multi-purpose vehicles. Its variants include all-wheel drive and two-wheel drive."(Győri Mezőgép, May 1970)
The Győr Mezőgép completed a series of tests of another prototype called Triebkopf in 1971, but this marked the end of experiments with such vehicles. The idea reappeared a decade and a half later. In 1986, Rekard Győr Agricultural and Mechatronics Machine Manufacturing Company, which had already undergone several structural changes and changed its profile, presented a three-wheeled freight model at BNV.