In the 1950s, the Chinese government encouraged the development of minicars, which were used primarily as taxis. The Automobile and Tractor Department of the Qinghua (Tsinghua) University in Beijing with the help of the Second Beijing Repair Plant developed at least 6 such models in 1958-61.
All cars were named Weixing, which means "Satellite". According to various sources, a total of 126 to 146 units were made.
1st model
The most famous of all the microcars is the one presented to Prime Minister Zhou Enlai during a meeting with North Korean leader Kim Il Sung. Prime Minister Zhou was very enthusiastic about minicars: he was even photographed driving one of them.
The four-seater Weixing was driven by a single-cylinder engine that ran on alcohol or gasoline. Power output was 12-13 hp. The car had a length of 2400 mm and a width of 1080 mm. The maximum speed reached 56 km/h, fuel consumption was 3-4 l/100 km.
According to another source, a 650 cc engine allowed the car to develop a speed of 55-60 km/h, and consumption reached 5 l/100 km. In the third source, the data are as follows: length 2700 mm, width 1250 mm. Wheelbase 1400 mm. Weight 440 kg. The engine was an air-cooled 2-cylinder 410cc. Speed was 60 km/h. It is possible that all this information refers to different models.
After the manufacture of prototypes in 1959, the first small batch was made, consisting of 33 cars. It was followed by the second – in May 1960 – 40 pcs.
2nd model
The second model was a flat-fronted, rear-engined model, sort of like the Fiat 600 minivan, only much smaller. There were versions with open-top and closed bodies.
3rd model
The third model had a very short wheelbase. In some ways, its appearance may resemble the English Frisky. There were also variants with open-top and closed bodies.
4th model
The fourth model was a bit like the Soviet Belka microcar. There was a version with all-metal doors, as well as an option with combined metal-fabric doors.
5th model
This prototype was clearly copied from the GDR Trabant. But again, it turned out to be a little smaller and was distinguished by reduced rear arches. Judging by the round air intakes the engine was located in the rear.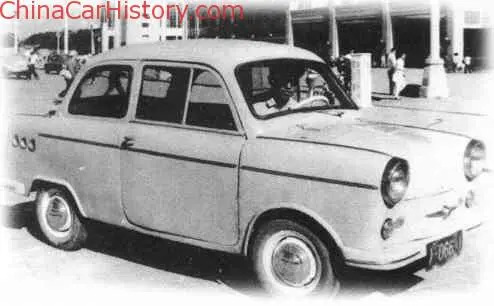 6th model
Interestingly, the latest sixth model has become like a logical continuation of the very first version. At least in terms of concept. Visually, the car could be distinguished by two pairs of round headlights of different diameters on a drop-shaped substrate.
The body was open-top and had no doors, and the soft top could be folded behind the rear seats.