In May 1956, Bond discontinued Mk C and presented Bond Minicar Mark D. The changes between Mk C and the Mk D, like those between the Mk A and Mk B. It's exterior design was quite similar. Two versions were available: Standard/Deluxe 2/3 seater Tourer and a Standard/Deluxe 4 seater Family Safety. They got a new Villiers 9E, 197cc engine, 3-speed direct change gearbox, 4-plate clutch, higher top-gear ratio and a heavier drive chain. 9E engine was 12.5% more powerful in compare with 8E, rated at 8.4 bhp (6 kW; 9 PS) at 4,000 rpm. Additional horsepowers increased top speed to 51 mph (82 kph).
12 volts electrical systems were used. All Bond Minicar Mark D cars had chrome headlamp hoods, front wing side flashes and a grab handle on the dash. Deluxe versions were equipped with a Siba Dynastart, and bumpers in the front and in the rear. Customers could order a glass fibre hard top on any version as an option.  In October 1958, all Family Safety versions received a 4 speed gearbox and a new designation – Family Tourer.
Bond Minicar Mark D photos
Special versions
Bond Minicar Mark D Family Four
The 'Family Four' had a hard top similar to Mark E/F. It was presented at 1958 Motorcycle Show at Earls Court. It cost £339 10s 6d (£339.52½p). But only one car was made, which got the registration number MCK 509. Also it became the last Mark D, but it remained listed as 'available' until 1960.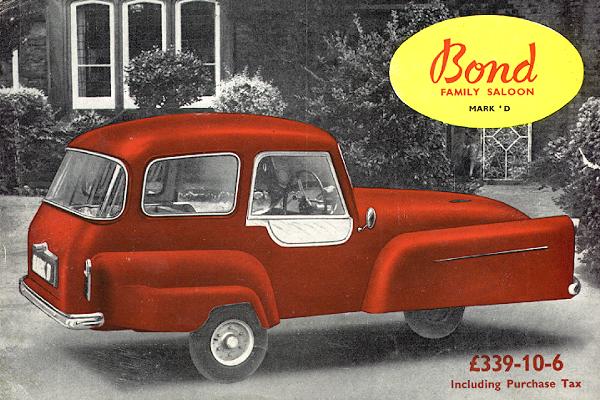 Bond Minicar Mk D videos