Bond Minicar Mark F was presented at the November 1958 London Motorcycle show. The body of Mark F was identical with the previous Mark E, but the new generation of 3-wheeler got a new Villiers 31A, 250cc engine with a 4 speed positive stop gearbox and a Siba Dynastart. Although, reverse was still an option. The engine had 247 cc and boasted 12 bhp (9 kW; 12 PS) at 4,500 rpm (an increase of 3.6 bhp (3 kW; 4 PS)). The best moment, that the fuel consumption was the same – 4.7 L/100 km! Top speed – 55 miles (89 kph).
Three versions were available from the beginning: Mark F Tourer, the Mark F Saloon Coupe and the Mark F 4-Seater Family Saloon. Dimensions and weight (672 lb) remained unchanged. Available colors are also the same: Scarlet, British Racing Green and Light Green. Bond Minicar Mark F was extremely successful. The company produced almost 100 cars per week.
Versions
Bond Minicar Mark F Tourer
Tourer with an open top and canopy was the base version in the range. Prices started at £379 13s 9d (£379.68p). The Tourer was discontinued in June 1961.
Bond Minicar Mark F Saloon Coupe
Saloon Coupe version was identical to Mark E. It had hard top instead of open top of Tourer. The coupe was given a lift-up hatch to aid loading luggage. Prices started at £379 13s 9d (£379.68p). The Saloon Coupe was discontinued in June 1961.
Bond Minicar Mark F Family Saloon
A 4-seater Family Saloon had two smal forward-facing seats for children. It had the same dimensions and the weight as the Saloon Coupe, but the rear of its hard top get a new design without a hatch door. Prices started from £389 14s 6d (£389.73p). The Family Saloon was discontinued in August 1961.
Bond Minicar Mark F Ranger
A commercial version of the Family Saloon was introduced in March 1960. It had no side windows and rear seats, but received a rear hatch door for easier access to a cargo compartment. The carrying capacity was 3 cwt. or 31 cu. ft. All bodies were in primer but could be painted for an extra £4.50p! Price was £295 0s 0d (£295.00p). The Ranger was discontinued in October 1962 and became the last produced Mark F minicar.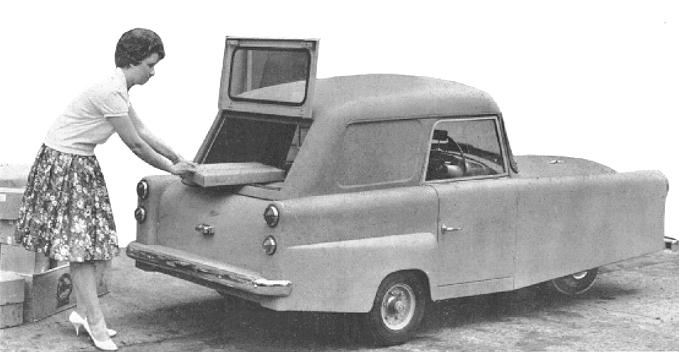 Bond Minicar Mark F Van
Later, in June 1960, 39 copies of commercial Mark Fs were made under the name Van, not the Ranger. There was a difference between them: the Van had only driver's seat, when the Ranger was equipped with full front seat. This increased the carrying capacity by freeing up the passenger area. There was a triangular aluminium panel was fitted to the floor on the left side of the driver's seat to provide some sort of protection against any of the goods being carried!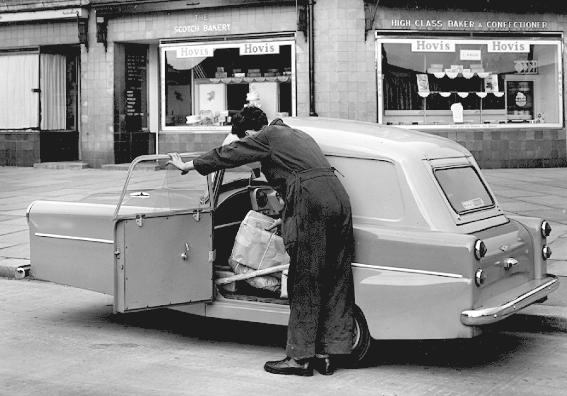 Bond Minicar Mark F videos