In China, Liuzhou Wuling Automobile Industry Co., Ltd., founded in 2007, is known as a manufacturer of cargo and passenger vans. In 2017, the brand launched the first Hongguang S3 crossover, and now it enters the EV market, following the example of Baojun brand (E200, E100).
General Motors, which as a Wulling is a member of the SGMW alliance, reports that the Wuling Mini EV is "inspired" by popular in Japan key-cars, characterized by straight lines and square design elements. "Two-door sedan" offers four places for daily city trips. The compact size and short wheelbase give the electric car a "natural advantage" when parking and maneuvering.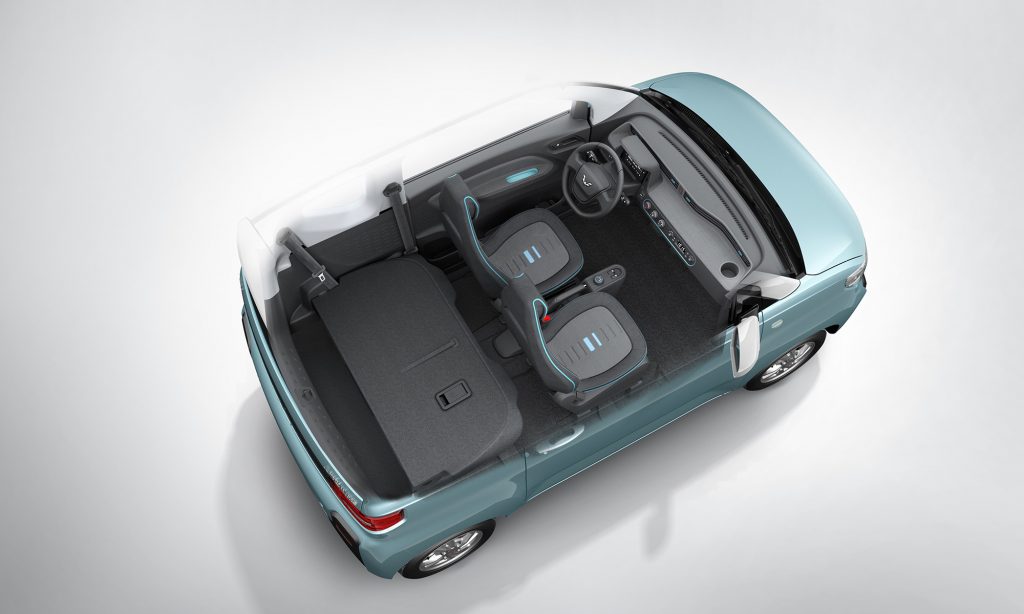 According to the Ministry of Industry and Trade of the PRC, length, width and height is 2917×1493×1621 mm, wheelbase is 1940 mm. Tire size: 145/70 R12. Curb weight depends on the version – 665 or 705 kg, gross weight – 980 and 1020 kg.
Obviously, the Mini EV belongs to light quadricycles class, which in a number of countries do not require a driver's license. The power of Wooling's electric motor is only 20 kW (27 hp). Maximum speed is 62 mph (ca. 100 km/h). Two versions of the battery are endowed with a capacity of 13.82 and 9.2 kWh. The likely range is around 100 and 150 km in the NEDC cycle.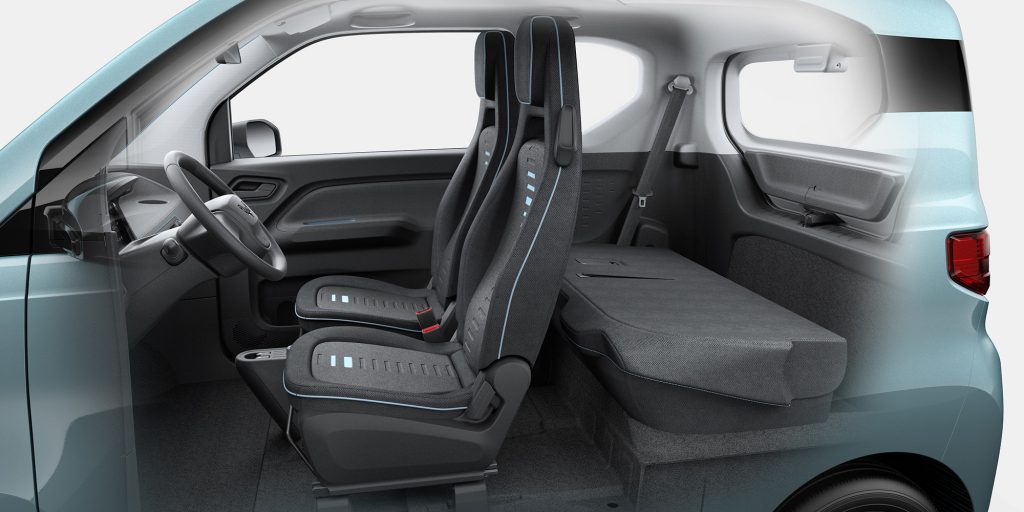 Like appearance, the interior is deliberately simple. The back seat "in the style of a bench" occupies the entire trunk, but you can fill up the continuous back of the sofa and win 740 liters of cargo volume. According to GM, there is enough space for a couple of suitcases or a pram. A dozen containers for small things, including cup holders, is promised.
The dull gray-black realm of plastic and fabric revives accents in body color. There is no central touchscreen, but there is a digital instrument panel. The audio system is equipped with a monochrome screen. There is a transmission selector in the form of a washer, a parking poker and window lifter buttons between the front seats.